Help Find Missing Nichole Cable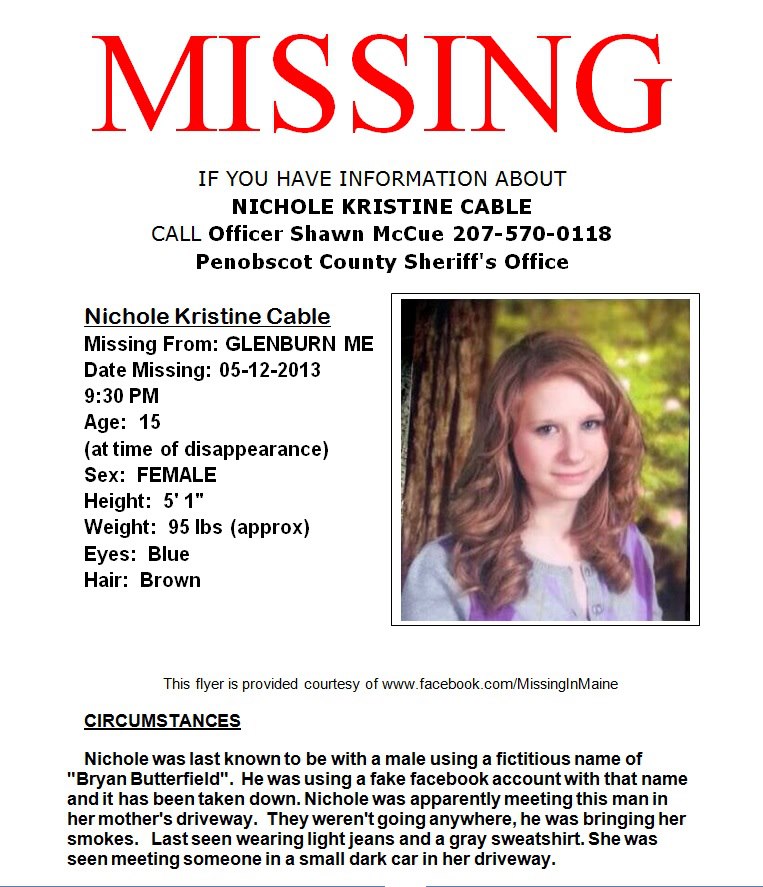 15-year-old Nichole Cable a student at Old Town High School was last seen on Route 221 around 9 pm on Sunday night (May 12, 2013).
Nichole Kristine Cable
Missing From: GLENBURN ME
Date Missing: 05-12-2013 around 9:30 PM
Age: 15
Sex: FEMALE Height: 5′ 1″ Weight: 95 lbs
Eyes: Blue Hair: Brown
CALL Officer Shawn McCue 207-570-0118
or contact the Penobscot County
Sheriff's Office at 207-947-4585
Cable's parents, Jason and Kristine Willey, have turned to social media in hopes that their daughter will return home safely. A Facebook group, "Bring Nichole Cable Home" has been started to help get the word out.
Verified WCSH6.com Portland (NBC)
http://www.wcsh6.com/news/article/243718/2/Sheriff-looking-for-missing-Glenburn-girl
Verified WABI.tv Bangor (the CW)
http://www.wabi.tv/news/40114/authorities-hold-press-conference-on-investigation-of-missing-glenburn-teen
Elements used to create Featured image Artwork provided by
Created by Jill
.