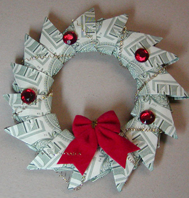 Well, may be not all of Christmas, but most of it.
I'm actually surprised how much of Christmas my blog has paid for. I wasn't expecting it, I didn't even realize it until early last week when I got a few emails and started checking accounts.
Way's my Blog Paid for Christmas:
1) Donations
Back in July a woman who knew someone, who knew someone, I had helped, asked me to change the background color on her blog. That took me all of 5 minutes, so when she offered to pay me I politely refused.
This prompted an irate email from the woman as she explained how insulted she was that I would not except payment.
I asked her ….. Nicely (keep in mind I just changed her background color for Free) ….. I asked her nicely if she would mind, in lieu of payment, if she would donate to The Hunger Site. I explained that we donated in the names of our family members as their Christmas presents and she would be doing me a favor if she would take care of one of the gifts.
This was acceptable and as I did more blog work for other people I asked them if they would do the same and forward the receipt to my email address.
This week I checked the receipts and apparently I have done nearly $600 worth of work. (We usually donate around $300) I've never asked anyone to donate any specific amount, just a dollar or so for a cup of rice.
2) Promotions
I don't do many promotional posts, even though I love to do giveaways. Of course as I write this I have 4 giveaways going right now, but I digress.
Most promotional posts don't come with a paycheck, I get an item and I get to give one away.
However, some are offers where I get go to a store and just play with a product for a few hours and I get paid $25 to $50 an hour. I don't have to sell anything, I don't have to push the product on anyone, I just stand there, play with the product, offer others a chance to play with the product and answer any questions about it.
3) Affiliates
For awhile now I have been trying to get the word out about Work at Home SCAMS! I go trolling forums and websites, I write posts and comment on blogs about Scams. I HATE SCAMS!
I know the kind work at home jobs people are looking for and I've done my best to find those type of jobs.
I test EVERY work at home job/survey site before I pass it along and I've found that all the GOOD Work at Home Jobs/Survey sites are desperate for real dedicated workers and they are willing to pay for those workers.
It still shocks me when I get an email from some of these places telling me I have $100 just sitting in my account and they'd like to send it to me – and this happens several times a year.
I don't even know where these links are. I've posted them all over the web, any where someone has asked a question and I've known the non-scam answer.
And that's it – Who would have known that those 3 little things could have paid for Christmas!
PS, in case you're wondering, these are my 3 favorite affiliate links/ legitimate survey sites: MindField Online    Survey Savvy    
This one won't hurt your computer, Google hasn't rescanned it yet so it looks like there is a problem with the site, but there's not. American Consumer Opinion
Elements used to create Featured image Artwork provided by
Created by Jill
.