Obamacare, Health Care Exchange, Affordable Care Act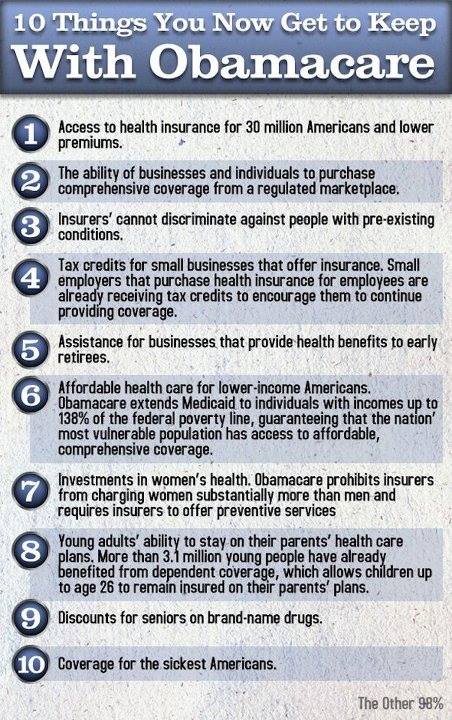 Regardless if you call it Obamacare or the Health Care Exchange or the Affordable Care Act, you've probably been given a lot of confusing information.
Instead of rehashing the good and bad of Fox News, CNN and NBC, I'm just going to try and cover some basics.
MYTH: Millions of people will lose their employer based health insurance under Obamacare.
This was a claim made by Rep. Michele Bachmann (R-Minn.)
FACT: This is a Worse Case Scenario claim made over a year ago be the Congressional Budget Office. The study estimates that as many as 20 million workers could lose their employer-based health insurance by 2019 because of Obamacare. However it is equally possible that the number of people on company-based plans might increase by 3 million over that time period because of the new health care law.
MYTH: Congress is exempt from the Affordable Health Care Act.
FACT: Even a few sitting lawmakers have repeated this claim, but it's not true. Congress is not exempt from Obamacare. Like everyone else, lawmakers are required to have health insurance. They're also required to buy insurance through the marketplaces. The idea is to have lawmakers and their staff buy insurance the same way their uninsured constituents would so they understand what their constituents have to deal with. Most Americans who already get insurance through work are left alone under the law; members of Congress have insurance through work but are treated differently in this regard. Recently, a rule was added so that lawmakers' could keep the traditional employer contribution to their coverage. But they weren't exempt from requirements that other Americans face. We rated this claim False.
MYTH: Obamacare is unpopular.
FACT: I still can't access the website. Obviously, it's wildly popular. [https://www.healthcare.gov]
Statement: The majority of Americans will be able to find coverage for $100 or less per month in the Marketplace.
FACT: Yes and No. For a family of four in Dallas with an income of $50,000 per year, the lowest bronze plan would cost only $26 per month, taking into account tax credits – Sounds Great Right?
At the same time a 27-year old living in Dallas who makes $25,000 per year will pay $74 per month for the lowest cost Bronze plan and $139 per month for the lowest cost Silver plan.
The truth is the plans with the most affordable premiums come with higher deductibles and out-of-pocket costs. Just like employer provided insurance.
MYTH: With ObamaCare I'll have to change Doctors.
FACT: Yes and No
Let's get some perspective here. If you're not insured – how often do you see a doctor? Probably not to often. So that's a non-issue.
If you already have insurance you don't have to change, so you don't have to change doctors.
If you change your insurance company there is always a chance you may have to change doctors. My husbands employer changes health insurance companies and/or plans Every Year. EVERY YEAR. I've been married for nearly 10 years and I've had 12 different insurance plans [2 were from companies I worked for] I've never had to change doctors. However I know that Every Year there is a chance that I will have to change doctors on November 1st because like it or not our insurance coverage is going to change.
MYTH: The Health Care Exchange means higher taxes
FACT: Yes and No
People who make $200,00.00 or more a year and married couples making more than $250,000.00 a year pay a LOWER tax rate than those of us who making under $100,000.00 a year.
So those who make more than most of us will be paying more of their share – like they should. They aren't actually paying more, they are moving closer to paying the SAME rate as the middle class.
This means that individuals making more than $200,000 and married couples making more than $250,000, will pay a Medicare Payroll Tax of 2.35 percent. Also, individuals with a higher income could face a 3.8 percent tax on unearned income, such as dividends and interest.
So yes, there will be changes and most people don't like change that they can't control. But the sky is Not falling. You will be covered. And best of all Being a Woman is No Longer Considered a Pre-Existing Condition. Women will no longer pay higher premiums than men.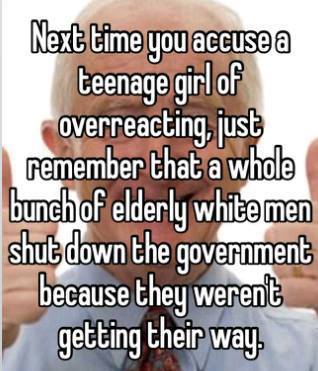 Elements used to create Featured image Artwork provided by
Created by Jill
.