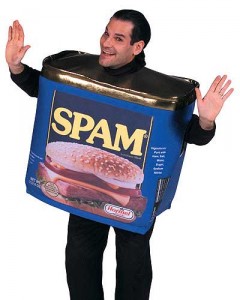 I easily receive 100 spamming comments every day. I mark them as spam and continue on with my day – but the other day I thought "What if I edited my spammy comments?"
I know what you're thinking – You don't want to be "that person" who writes their own comments. (Plus, I'm sure by now Google, Yahoo and every other bot/search engine/web crawler have come up with a way to detect comments which you leave yourself.)
But What If – just What If – I edited the spam comments with funny quotes? Amusing sayings? Sarcastic Remarks? What if I edited the spam comments I receive to draw people in?
Do you think Google or other search engines will care? I have created many blogs, I've yo-yo'd PR Rank, I don't care. PR Rank here today, gone tomorrow, I'll get it back again.
So this is my experiment: Will I lose PR Rank or search placement if I continue to write the same content, but I edit my spam comments?
1) I will remove the spam comment content and any links WITHIN the comment area.
2) I will leave the link that is placed within the optional "website" area that WordPress provides to those who comment.
3) I will replace all spamming comment content and links with Sarcastic Sayings, How To's, possibly funny video's, Amusing Quotes, Pinterest images, maybe a Bible verse or 2, translate some of the comments into whatever Google Translate will allow ….. ANYTHING that will Brighten someone's day. ANYTHING that will make people laugh.
What do you think? Good idea? Bad idea?
Would you visit a website ONLY to read the crazy comments?
Do you think Google will care?
StuckAtHomeMom.com – Read It For the Comments!
(PS I've already started – look around lol)
Elements used to create Featured image Artwork provided by
Created by Jill
.