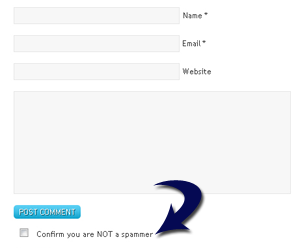 Spam!
How much spam do you get every day?
Stuck At Home Mom .com was receiving over 100 spam comments a day, every day – I couldn't keep up.
When it comes to spam your PR Rank isn't a factor, I have build sites without any PR Rank that receive 100's of spam comments.
I've tried everything Plugin under the sun and most of them just punished my faithful visitors – NOT what I wanted.
Then, I discovered: Growmap Anti Spambot Plugin
All it does is ask your visitor to "Confirm You Are Not A Spammer". [see below]
Seems a little to easy doesn't it? How does it work?
Spam bots are looking for a Captcha, they aren't looking for a check box and even if they were they have no idea how to use it. lol
Spam bots can handle a Captcha, but they miss the little things, like a little check box.
Check it out on the bottom of this and every post on StuckAtHomeMom.com and my other blogs.
Elements used to create Featured image Artwork provided by
Created by Jill
.