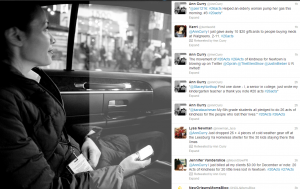 I can't remember when exactly, but I saw a simple tweet from Ann Curry #26Acts & #20Acts asking folks to do 26 Acts of kindness in memory of the 26 lives that were lost in Newtown, Conn.
When I read those words I looked over at a jar of change that I have been saving for no particular reason and thought, I wonder how many lives could be changed with that – and that's the Power of Ann Curry.
If any news anchor had asked, would as many people have come together?
If President Obama had asked only about 54% of our country would have even considered it.
An act of Congress would make people to do the exact opposite.
Can you think of one pop star with as much influence to make people drop what they are doing to help another?
The only person who could set this in motion is Ann Curry. She brings out the Power of Good – the Power of Kindness in everyone.
Today, I held the door for everyone.
I paid for the lunch of the person standing behind me.
I tried to help a lady at the post office package up her gifts, but she was a little skeptical – of course I said "You know Ann Curry hash tag 26Acts?" – I don't think she tweets ….. and ….. I just kind of stepped back in line.
But on my way out I grabbed the arm of a kid who was in mid-fall, so the trip to the post office wasn't a total "Act" loss.
Oh and the change in the jar, I'm getting gift cards for Dunkin Donuts and McDonald's to pass out to the homeless.
If you haven't heard of this, or if you are looking for ideas, I suggest you mosey on over to Ann's Twitter Page @AnnCurry and check it out. https://twitter.com/AnnCurry
Elements used to create Featured image Artwork provided by
Created by Jill
.