This FaceBook Chain Message Lets You Out of the Next 10 Chain Messages.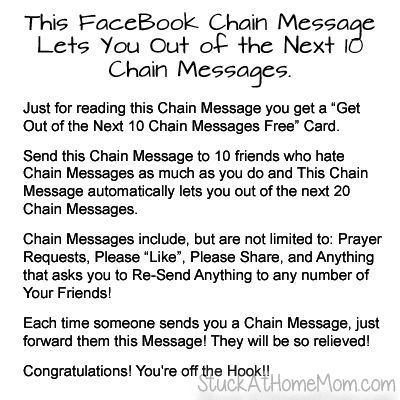 No I will Not forward your Hysteria, Superstitious, Alternate Facts, Prayer Requests, or anything else to All My Friends.
I will NOT Forward your Support messages, your Bra Color messages, your where do you put your purse messages.
Forwarding a message will NOT make the Mars Company change the Green M&M's or get Mark Zuckerberg to send you a million dollars – seriously – are you stupid? BTW Green M&M's are not causing your cancer – it's all the other crap you're eating. Step away from the computer and go get some exercise.
If you have Time to Spread Crap Why Aren't You Working in a Soup Kitchen Feeding the Poor!?!?!?!
The next time someone tries to waste your time by sending you a Chain Message – just send them the image above.
Download here:
Just for reading this Chain Message you get a "Get Out of the Next 10 Chain Messages Free" Card.
Send this Chain Message to 10 friends who hate Chain Messages as much as you do and This Chain Message automatically lets you out of the next 20 Chain Messages.
Chain Messages include, but are not limited to: Prayer Requests, Please "Like" my photo, Please enter my Giveaway, and anything that asks you to do something and resend the message to any one.
Each time someone sends you a Chain Message, just forward then this Message! They will be so relieved!
Congratulations! You're off the Hook!!
Elements used to create Featured image Artwork provided by
Created by Jill
.