I'm standing in the market tonight with a years worth of Matzo ball & soup mix – Shaw's happens to have a sale this week 4 for $5, normally they are 4 bucks a box – totally got my 'Jewish as a second language' on!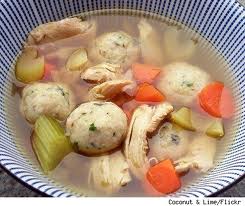 ANYWAY the woman behind me noticed and asks me what's with all the "Jewish mixes" – I'm in Maine, land of the 'Oh so few Jews' – I'm not even one, I almost said "Well, it's Rosh Hashanah I thought I'd build a Jew!" (Here's Your Sign!) – but I digress.
So I'm explaining how I don't make my own chicken soup, I use Progresso – total cheat and not even a good cheat, but I have no idea how to make chicken soup …..
And the woman asks "Why do you put Matzo balls in chicken soup?" and I stood there like an idiot.
What came out of my mouth? "I don't know, that's how the Hoffman's did it."
I have NO IDEA!
To be honest the first time I had Matza ball soup I couldn't figure out why they even bothered with the soup. I don't even remember what the soup tasted like – But I remember my first Matza balls OMGOSH!!
Everything before and sense my first Matza ball has been crap, except for more Matza balls. And you only got 2!
I remember when I was asked if I wanted seconds and I couldn't find a polite way to say "Hold the soup!"
Then the woman's daughters told me it stays on the stove top for mid-night snacking!
Well, pass the Whiskey and take my keys I will be to drunk to drive – boy does that couch look comfy!
I still have no idea why Matzo balls go in Chicken soup or if they get dropped into any other kind of soup – do you?
Happy New Year Everyone – I have Matzo Balls simmering. I'm outta here!
Elements used to create Featured image Artwork provided by
Created by Jill
.