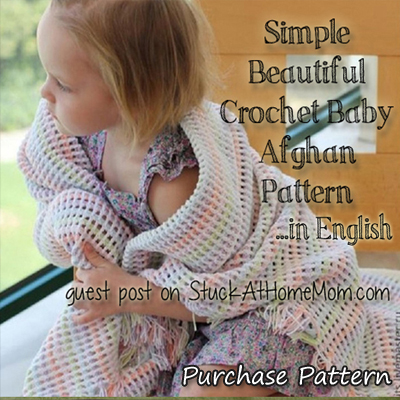 Simple Crochet Baby Afghan Pattern
Easy Crochet Baby Afghan Pattern. This is for the PATTERN ONLY!
There are 2 Sets of Directions.
The first set of directions are for those who can read crochet, the second set is for those learning.
Yarn: Red Heart Soft Baby Steps
Hook: H
Stitches used:
ch = chain
sc = single crochet
dc = double crochet
If I have done this right you should be able to download as soon as you purchase.
If pattern fails to download, please contact me by using this form: Contact Me
FAQ:
Question: How much yarn is used?
The pattern does not give dimensions, even the starting chain length is a suggestion.
You make the blanket to the size you want – so it could take 3 or 4 skeins of the main color and 2 or 3 skeins each of the alternate color – or possibly more if you make it into a bedspread.
The other issue is the type of yarn. If you purchase Red Heart Super Saver, it can take just 1 skein of each color and you may have some left over, even after the fringe! But if you use their softer baby yarns that call for the same size hook it takes considerably more.
*Typically it takes 2 skeins each of the alternate color and 3 skeins of the main color. Then an extra skeins of each for the fringe – again depending on the type of yarn used and how bulky you make the fringe.
Please Note: Some times PayPal is loopy and doesn't direct visitors back to the correct download page. Other times buyers may have an outdated version of Adobe pdf read and cannot open the file.
If you experience either of these issues, please contact me from my contact page and let me know.
However, even if I do not receive an email from you I will automatically email you the pattern as soon as I receive notification of payment via Paypal. Of course if you purchase in the middle of the night I won't receive that notice until morning (:
I can also supply the pattern in other forms if .pdf won't work for you – just let me know.

Elements used to create Featured image Artwork provided by
Created by Jill
.