Chocolate Suicide Recipe
[Chocolate Chip Cookie & Brownie Mix with Oreos]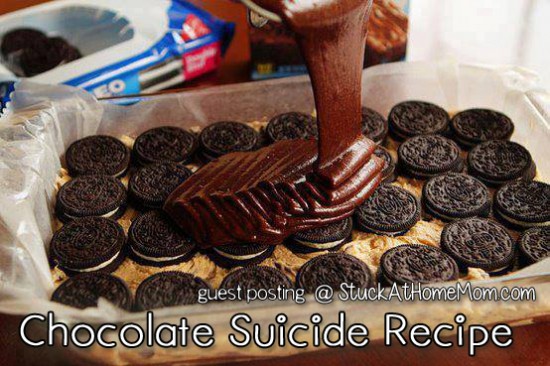 Chocolate Suicide Recipe [Chocolate Chip Cookie & Brownie Mix with Oreos]
Yet another Recipe found on FaceBook, but this one lacked any real directions. Just instructions with no list of products to use, no real ingredient list, no measurements – I can't work like that!
What if I want to take this to a Christmas Party? I need to have some idea what to use – Right?
SO OF COURSE I took it upon myself to figure out just how this was made.
Ingredients:
1 box of Betty Crocker Chocolate Chip Cookie Mix
1 bag of Double Stuff Oreo
1 box of Betty Crocker Original Supreme Premium Brownie Mix Chocolate with Hersheys Syrup
Instructions:
Mix the Chocolate Chip Cookie Mix according to the directions on the box and layer the dough on bottom of your baking dish
Arrange a layer of Oreos flat
Mix the Brownie mix according to the directions on the box, but put the Hershey's Syrup in the mix before pouring the mix on top of the Oreos.
Bake according to brownie mix directions (depending on size of baking dish) until brownies are done.
Let cool for a bit, but not to cool.
While still warm, top with ice cream and chocolate syrup to go on over the top!
(In case it's not obvious – top Individual Size Servings with ice cream and chocolate syrup – not the entire thing. This is meant to be shared!)
If your chocolate addictions is more of a chocolate obsession than replace the Chocolate Chip Cookie Mix with Betty Crocker Cookie Mix, Double Chocolate Chunk. Also top with Chocolate Ice Cream and Chocolate Chips. WARNING: Alternate Ingredients are for Hard Core Chocolate Obsessed Persons only.
 
To see a complete list of my other stolen recipes [and some I actually did create myself] visit my Recipe Section.
 
This Chocolate Suicide recipe has a bazillion calories and may cause instant death.
Do not eat or attempt if you a diabetic, on a diet, don't want to gain weight, like your current dress size, want to live for at least another year.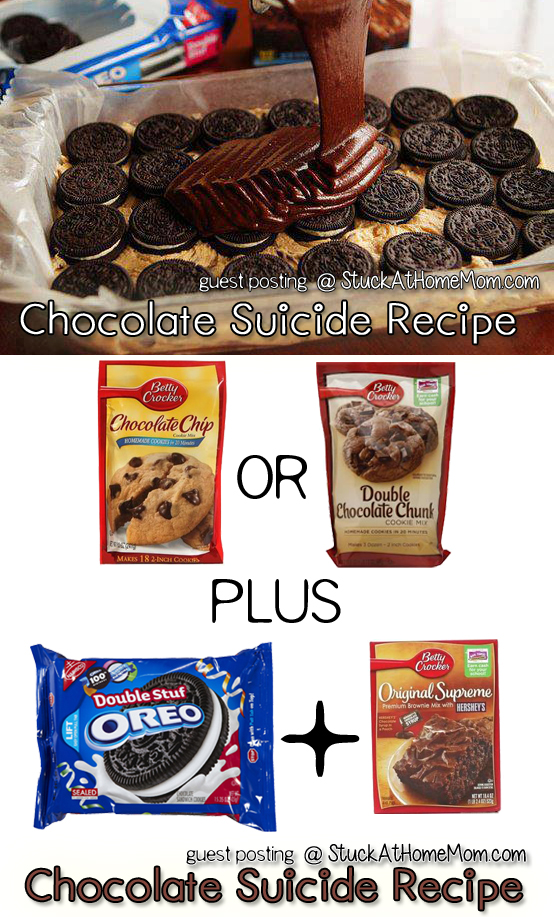 Elements used to create Featured image Artwork provided by
Created by Jill
.