Homemade Bouncy Balls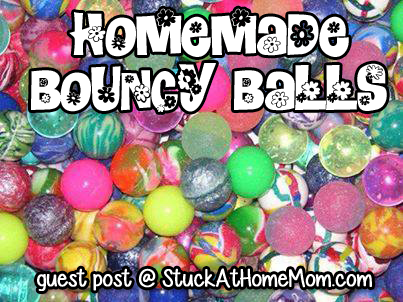 ♥♥♥SHARE so you can find it on your timeline♥♥♥
✔ Like ✔ "Share" ✔ Tag ✔ Comment ✔ Repost ✔ Follow me
 
Yet another stolen post from FaceBook! These people actually: Savior Cents's Page I have no idea where they stole it from, but feel free to ask them.
I have no idea if this actually works, but as soon as I figure out what Borax is I plan to try it. If you have Borax and try it before I get to, please let me know!
 
What you need:
2 cups
Measuring spoons
A stir stick
Ingredients:
2 tbsp hot water
1/2 tsp borax
1 tbsp glue
1 tbsp corn starch
Food coloring (optional)
1- Pour the water and borax into the first cup and stir the mixture until it is dissolved.
2- Pour the glue, cornstarch and food coloring into the second cup and mix. Then add the mixture from the first cup into the second cup.
3- Let the ingredients sit for 15 seconds then stir.
Once the mixture becomes difficult to stir, scoop it out of the cup, and roll into a ball. Enjoy!!!
Elements used to create Featured image Artwork provided by
Created by Jill
.