Free Random Stuff from the Basement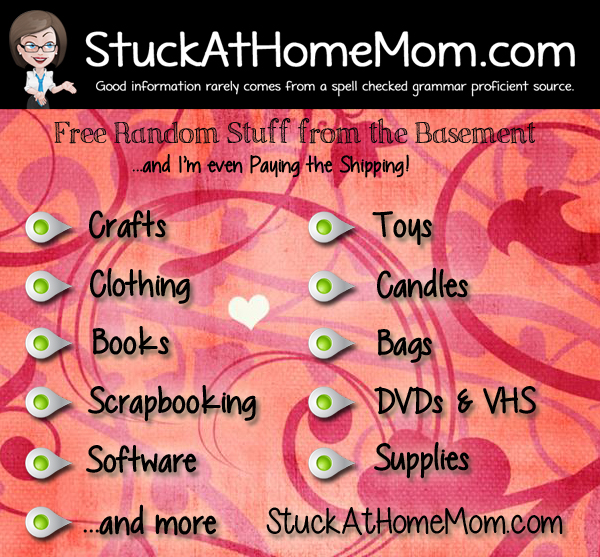 Yup! The basement is full and needs to be empties – want a random item?
While supplies last you can sign up to receive a random item from the basement and/or a sponsored item from the basement.
How it Works and Why?

Most common questions: How can you afford the shipping? Why not just donate the stuff?

It's simple really, I earn an income from my blog. The more people come, the more pages viewed, the more ads click, the more images pinned – the more money I make.

You have to spend money to make money.

I'm spending a little of what I make on postage to attract more traffic to my blog in order to make money – see simple!

If this goes big, then I'll start gathering sponsors to pay to add items to the packages. But for the minute, I'm just want all this stuff out of my basement.

The More Traffic the More Stuff I Give Away
so SHARE! Pin! RePin! Tweet!

APO/FPO example…
CPT JOHN DOE
UNIT 2050 BOX 4190
APO AP 96278-2050

SGT ROBERT SMITH
PSC 802 BOX 74
APO AE 09499-0074

SEAMAN JOSEPH SMITH
USCGC HAMILTON
FPO AP 96667-3931

MSG JANE DOE
CMR 1250
APO AA 09045-1000
Elements used to create Featured image Artwork provided by
Created by Jill
.