Lemon Greek Yogurt Cupcakes with Lime Jello Frosting Recipe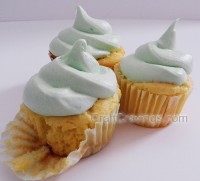 Good Afternoon!
How is everyone today?
This Lemon Greek Yogurt Cupcakes with Lime Jello Frosting recipe is provided by CraftCravings.com – So Good! MMMmmm!!
All images and content are the property of CraftCravings.com
And here we go ……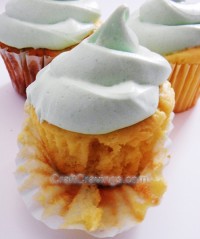 What you Need:
a box of cake mix (whatever flavor floats your boat)
1 cup of PLAIN Greek Yogurt ( I used two individual one serving cups of Oikos Plain)
1 cup of water
1 tub of canned vanilla frosting (or make some yourself if you're feeling all Martha Stewart-y)
a small box of whatever flavor Jello you want for the icing. I used Lime Sugar Free Jello. The only reason I used that was because it's all I had in the pantry that was lime. It's not like I thought I'd actually save sugar or calories in this recipe.
You might be thinking "Greek yogurt, cake mix and water? That's it?" Yep, that's all! It makes a moist and delectable cake. I will warn you though that it will NOT rise much. I pretty much filled these cupcakes almost to the tops of the paper, which is why I only got 18 out of the recipe and I mean I BARELY got 18 at that. If you're making a layer cake I'd recommend making one more layer than you think you'll need, just to get height. Trust me though, the moist yummyness of this cake will make up for that pain in the rear. I don't really remember where I first heard this yogurt and cake thing, but it's all over the internet. I didn't come up with it. I'm not quite THAT clever.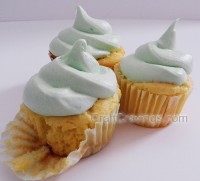 Easy! Take your yogurt and mix in the cup of water. Pour in the cake mix and mix until well combined. You're probably going to want to use a mixer here. I used a hand mixer. The batter will be thick like pudding. Don't freak, it's how it's supposed to be! Plop the batter into cupcake tins or your cake pans. I will say that you have to grease the pan or use cupcake liners because this recipe loves to stick to the side. Since it's so moist, it doesn't hold up well to "prying" out of cake pans and muffin tins. Plus, using cupcake liners is good anyway because who wants to clean muffin tins? Not me, my friend.
Bake according to the box directions but decrease your baking time by about 5 minutes and then watch it carefully. This recipe can bake a bit fast, unless you're at my house. My oven is very weird in that it burns everything. We have to decrease the instructed temp by 25 degrees or more, put a pan in the bottom rack and still watch it. My oven is as weird as I am. I guess that's fitting.
Once your cake/cupcakes are done, let them cool COMPLETELY. I let mine sit overnight while I slept.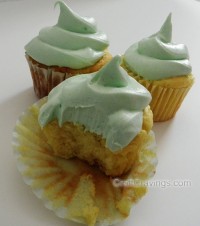 Frosting:
I used a can of plain ol' vanilla/plain white frosting. I mixed a packet of Lime Jello (the small box) in with it with my mixer. It makes the frosting taste VERY lime. If you want to reduce the flavor, I'd recommend adding about half of the powder, mix it all up and then taste test it before adding the rest of the powder. I let the frosting sit for an hour or so before I frosted my cakes, but that's optional. I just wanted to give the Jello flavor a chance to "meld" with the frosting. Or I could have just gotten caught up watching something on TV… maybe.
Frost your cake and that's it, you're done! I am far from a good cake decorator. I used a ziploc bag with the tip cut off as a piping bag. I should have snipped a smaller hole in the end. I might have ended up with prettier cupcakes.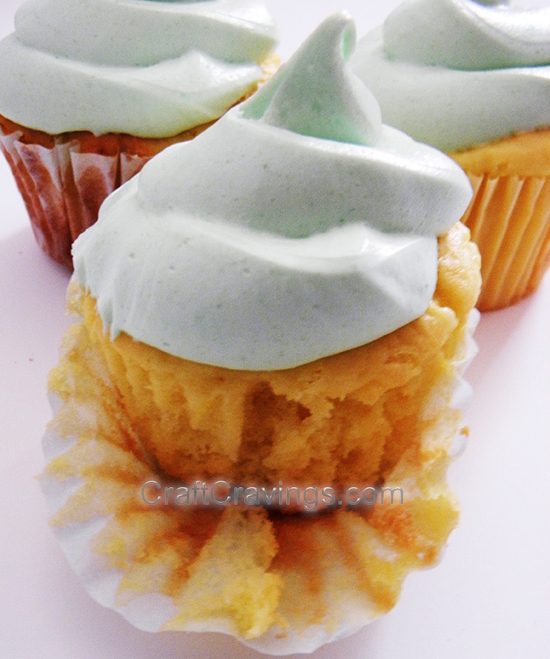 Nutritional information (for only the cake.)
128 calories per cupcake (out of 18 servings)
1.4g fat
286mg sodium
Nurtritional Information for my frosting (per cupcake and is approximate)
150 calories
5g fat (next time I do this, I'm going to find a lower fat frosting option.)
55mg sodium
Elements used to create Featured image Artwork provided by
Created by Jill
.