Ground Beef Stew Recipe #recipe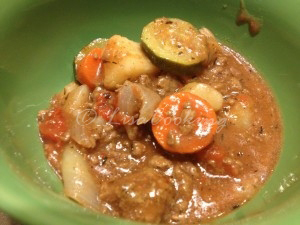 Good evening!
How is everyone tonight?
Ground Beef Stew Recipe – MMMmmm!! Who's ready for dinner?
Today's guest recipe comes from Lisa Cooking.
All images and content are the property of LisaCooking.com
So here we go ……
Serves: 5
Prep time: 15 mins Cook time: 30 mins Total time: 45 mins
Ingredients
1 lb. ground beef
½ teaspoon salt
¼ teaspoon pepper
3 carrots, cut into ½-inch pieces
2 medium potatoes, cut into ¾-inch chunks
1 medium onion, cut into 8 wedges
16 oz. beef broth
1 medium zucchini, sliced
1 (14.5-oz.) can diced tomatoes, undrained
½ teaspoon dried thyme leaves
1 tablespoon Worcestershire sauce
¼ cup water
2 tablespoons all-purpose flour
Instructions
Combine ground beef, salt and pepper and brown. Drain.
Add carrots, potatoes, onion and broth. Bring to a boil. Reduce heat; cover and simmer 15 to 20 minutes.
Stir in zucchini, tomatoes, mushrooms, thyme and Worcestershire sauce. Cook 5 to 10 minutes
Combine water and flour in a bowl. Gradually add to stew and stir. Stir until bubbly and thickened.
Other recipes from LisaCooking: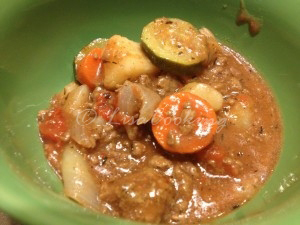 Elements used to create Featured image Artwork provided by
Created by Jill
.