Pillsbury S'mores Pockets #recipe #smores #chocolate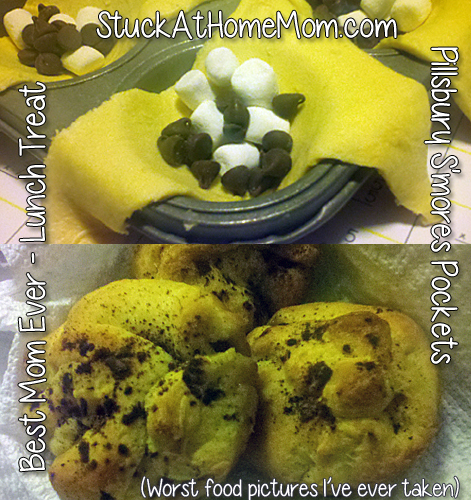 Best Mother of the Year Award ……. well, tomorrow it will be me! Pillsbury S'mores Pockets are out of this world good, the best surprise lunchbox treat on the planet and they take about 20 minutes from start to finish!
You'll need:
Pillsbury crescent rolls
Chocolate Chips
Marshmallows
Graham cracker crumbs – Optional
Place Pillsbury crescent rolls (unrolled) in muffin tins.
Fill with chocolate chips [or 1 to 2 Hershey kisses or 1 Hershey miniature] marshmallows, and graham cracker crumbs [I'd skip the graham cracker crumbs, they're just as good without them]
Fold to close.
Cook at 350 F for 15 minutes-ish.
Once cooled, toss in a baggy with a little love note – I'm the best mom ever!
Elements used to create Featured image Artwork provided by
Created by Jill
.