Rice Krispies Treats
with Butterscotch & Chocolate Chips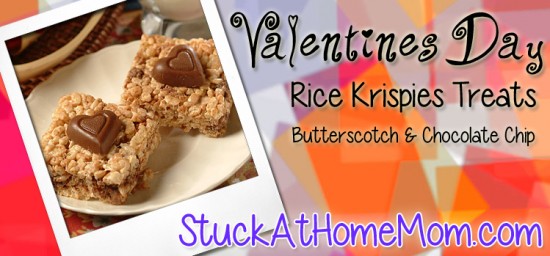 This is a recycled recipe from last year when Nestle sent us a TON of candy for Valentines day and we made Rice Krispies Treats. This is one of my favorite recipes, mostly because it's quick and easy.
INGREDIENTS
3 tablespoons butter or margarine
4 cups miniature marshmallows ( OR 1 – 10 oz. package (about 40) regular marshmallows)
6 cups Rice Krispies cereal
Half bag of Chocolate Chips
Half bag of Butterscotch Chips
DIRECTIONS
1. In large saucepan melt butter over low heat. Add marshmallows and stir until completely melted. Remove from heat.
2. Add Rice Krispies cereal. Stir until well coated.
3. Using buttered spatula or wax paper evenly press mixture into 13 x 9 x 2-inch pan coated with cooking spray. Cool. Cut into 2-inch squares.
….. after eating through half of the Krispie Kritters it hits us! We should make Valentine's with the giant bag of candy that Nestle sent us!!
Elements used to create Featured image Artwork provided by
Created by Jill
.