Tootsie Roll Flavored Hot Chocolate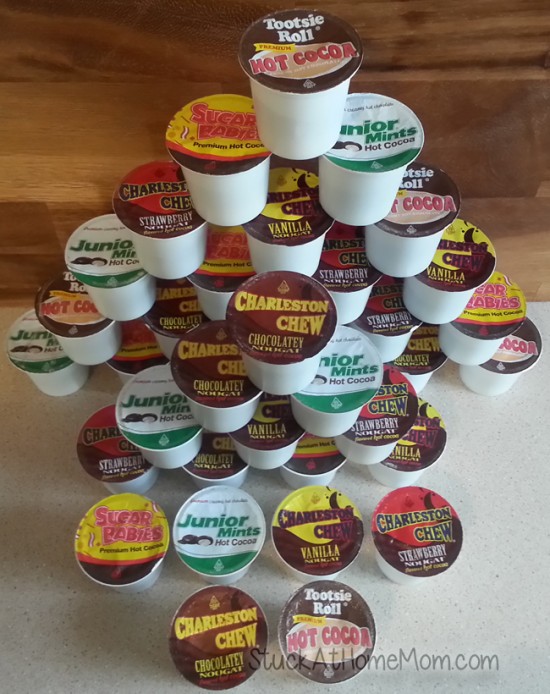 I still can't quite grasp it when I look at the counter and see a box of 40 (minus several) Keurig cups filled with Tootsie Roll and candy bar flavored hot cocoa ready to brew.
I never invested in a Keurig machine because I am not a big fan of coffee – unless it's a latte, though I'm not sure that counts. Steamed milk and flavor are my speed and I LOVE Hot Chocolate!! When the K-cups arrived I told the girls that I'd go over and borrow Nana's machine while they were in school.
They weren't going to wait. I mean come on! It's Candy Bar and Tootsie Roll Hot Chocolate!!
So my fabulous online community (yes, all of YOU!) told me to dump the cup into a mug along with a little milk and hot water and stir – Eurica!
Though let me just say it does work much better in a Keurig machine! BUT if you're pressed for time and there is hot water reading a waiting, this a Life Hack!
The great thing about Tootsie Roll Hot Chocolate variety pack is that each one tastes like the actual product: Tootsie Roll, Junior Mints, Sugar Babies and a few different flavors of Charleston Chew.
Of course kids are going to love this product, but I wanted more of a sample adult opinion … so as usual our In Home Support staff got involved.
The thing you have to understand about IHS is that they're really not supposed to do anything but work with your child. BUT I feel that in order for IHS staff to understand my child they need to be involved in our every day lives – especially when it involves Flavored Hot Chocolate!!
The IHS staff, several friends, the girls and I all agree it's Good! Really Good!
It does make your brain take pause. You're drinking hot chocolate that tastes like a Strawberry Charleston Chew and for those of us who love Charleston Chew, it tastes exactly like it. I'm sitting here drink Tootsie Roll hot chocolate and even though I've tried them all (some several times) I'm still sitting here in disbelief.
**

Giveaway!

**
Our wonderful sponsor will provide one of our readers with a 40 count Cocoa Pack of Tootsie Roll Flavored Hot Chocolate Keurig Cups.
To enter:
Step 1. To enter Please Tweet this post.
Step 2. Leave a comment below letting me know that you've completed step 1.
Please note: When leaving a comment, please put an email address where you can be reached in the Email field and NOT in the comment itself.
Rules: Giveaway runs from 01/17/2015 through 01/24/2015 11:59pm eastern. Must be 18 years old to enter. Valid in the US only. StuckAtHomeMom reserve the right to cancel the giveaway at anytime without notice for any reason. We reserve this right to ensure that the giveaway is fun and not soiled by internet trolls.
****************************************
PS: Can you imagine being the child of a Blogger and seeing packages like this delivered …. sometimes every day?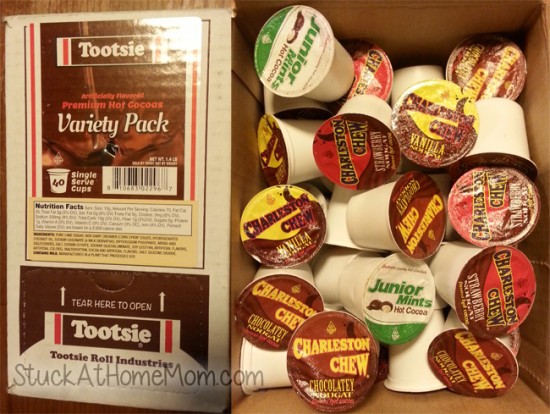 Elements used to create Featured image Artwork provided by
Created by Jill
.