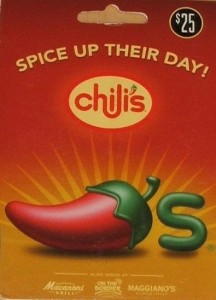 25.00 Chili's Gift Card – Again!
What can I say about Chili's that hasn't been said before?
I went to other blogs for inspiration, it's all been said before "Good food" "great prices" "fun environment" blah blah blah – I'm going with a different approach.
The food at Chili's is loaded with yummy calories. Veggies are lathered in butter that will delight your taste buds. According to 'Eat This Not That' several of the entrees have as much as a weeks worth of sodium, which is WHY any public schooled 1st grader can tell you – Chili's is a Sometimes Food! It's a treat and not a nightly meal.
To my knowledge Chili's has never claimed to be a health food and though they have put healthier choices on the menu, I have to ask "What Is the Point of THAT!?!?"
Remember – Chili's is supposed to be a treat, not a nightly meal.
If eaten in excess anything on the Chili's menu will cause heart burn, acid reflux and most undoubtedly flatulence!
Has there ever been a Chili's commercial that claimed "Eat here for a balanced meal" HELL NO! The commercials even show you what you're getting.
Unless you have just beamed down you know that every tasty bite of fried food is clogging your arteries.
So there you have it, an honest hopefully inspiring review of Chili's.
Now enter the giveaway then go pop in the DVD you spent 4 easy payments on and prepare to win (always ask your doctor before starting any exercise regiment, because the healthier you are, the less you'll visit – your doctor may want to avoid a healthier you.)
Here's how you enter:
Win It: $25 Chili's Gift Card
Required Entry:
You Must Follow Stuck At Home Mom.com on FaceBook, Twitter And Google Friend Connect (see sidebar)
WANT 10 EXTRA ENTRIES?
Enter my Phix Giveaway!
Post 1 comment leaving an email address where you can be reached. Email address are not published IF you put the email address in the space provided.
There is NO need to put your email address in the comment, just put it in the area provided.
Please read the rules before entering. U.S. residents only. Must be 18yrs old or older to enter.
Please leave a separate comment for each entry. The number of comments are entered and picked randomly, so you want to add a separate comment for each entry.
Disclaimer: NO monetary compensation was received for this promotion. I did not receive a free product for promotional purposes. This product was purchase by Stuck At Home Mom. Stuck At Home Mom is sponsoring this contest.
RULES: Giveaway open to U.S. Must be 18 yrs or older. Giveaway ends Saturday, December 17, 2011 at 11:59 EST. Only 1 person per household may enter. Rules must be followed and required entry must be answered. All entries of winner pulled will be validated for winning. If I find that I can't verify an entry or 1 is invalid I simply draw a NEW Winner. Winner is selected using Random.org and will be emailed and given 72 hours to respond. In the event of no response a new winner will be chosen. Owner and writer of this Blog is not responsible for prize fulfillment or lost or stolen prizes. Prizes can take 4-6 weeks to be delivered. By entering this giveaway you agree to have read these rules. If you have any questions please contact me. Owner and writer of this blog reserve the right to end this giveaway for any reason without notice.
Ok I'm tired of spell checking – this is it!
Elements used to create Featured image Artwork provided by
Created by Jill
.