This is something I have wanted to do for AGES. Post to my self hosted WordPress blog. I am a technology nut case, but I couldn't find a plugin that would allow it. I figured there had to be something that would allow at least email posts, since my email is self hosted also, but nothing really worked.
THEN I found CellSpin and it only cost $1.99! An entire BUCK Ninety Nine!
CellSpin is an app on my Windows Phone and I'm using an OLD version of Windows mobile – like 5 or something and it WORKS wonderfully.
Ok, but this isn't supposed to be an advertisement and since I'm not getting paid to promote it – lol – let me tell you how it works.
#1, on your smart phone, go to your market place or wherever you purchase your apps and search for CellSpin – download that puppy and get it installed.
#2 before you can use the CellSpin app you have to set up an account from your PC. You can probably do it from your phone, but I tried and it's a pain! So just boot up the laptop and it's simple. Go here: http://www.cellspin.net/signup/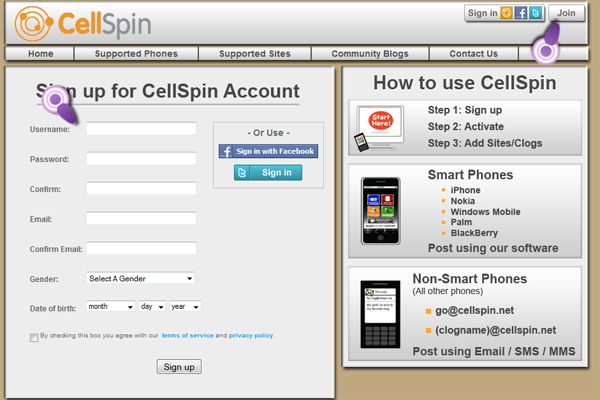 #3 Once you create a login, click 'Add Sites' then click 'WordPress'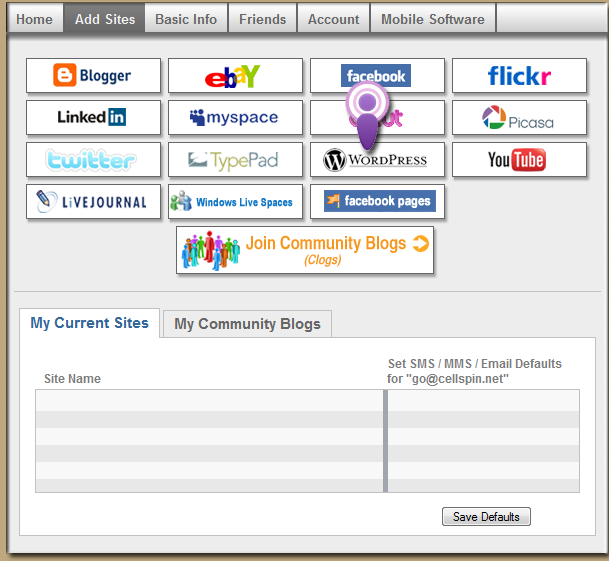 #4 The Display Name is something you make up. You can setup connections to your different blogs, so the display name is just how you identify your blogs.
The User Name and Password are those of your blog.
The URL is just a link to the home page of your blog. The description that CellSpin gives is confusing, all they want is a link to your home page lol
IMPORTANT make sure you change 'Hosted By' to "Self Hosted"
Don't forget to SAVE.
After clicking Save you'll be directed back to the 'Add Sites' and you'll see the Display name that you entered.
Add as many sites as you have blogs and blog to each of them.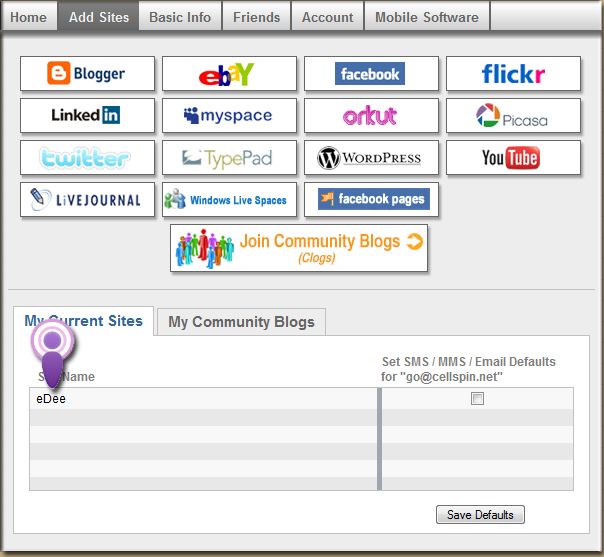 BEST PART: You can type your entire blog post in your text editor on your phone (for me that's NotePad, because I have a Windows phone)
Then after you save your .txt document to your phone, you can just send that .txt file via CellSpin.
Part I don't like to much: When you upload images, the images are hosted by CellSpin, which is kind of like hosting your pictures to PhotoBucket and using them on your blog, which is fine, but I like the image hosted on my own site. So when I do get back to my laptop I save the images to my hard drive and upload them to my blog. It takes a little longer, but this way I'm in control of the images.
Posting from your phone is simple. You can either type the post within CellSpin or do what I do and type the enter post within my text editor and I just upload the .txt file via CellSpin.
Elements used to create Featured image Artwork provided by
Created by Jill
.