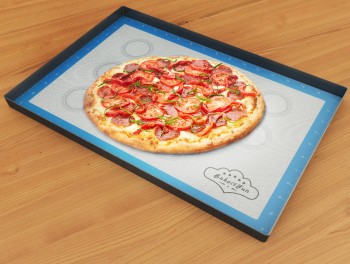 BakeitFun Baking Mat Has Many Uses!
The BakeitFun Baking Mat is a versatile silicone baking mat designed to be used in  many ways. The company says it can be used to bake on, to freeze stuff on, and it can be used as part of baking preparation and assembly. The baking mat itself is a little smaller than my cookie sheet. It's very flexible and easy to work with.
My first go around with the baking mat was a batch of peanut butter cookies. I was in a rush because I had to pick my one of the kids up from school but, of course, I had promised that there would be cookies so I threw together a quick batch of peanut butter cookie dough. I decided for the first use of the baking mat for preparation. I rolled out the cookie dough on the baking mat and rolled the dough into quick balls for baking.
I was pleasantly surprised at how nothing stuck to the mat! Everything rolled off of it neatly and smoothly. Usually dough is all sticky and gets everywhere, and gets stuck on everything. This baking mat was a pleasant change from that and clean up after making the cookie dough was a piece of cake!
My second use of the baking mat was cooking a frozen pizza in the oven. I set the pizza on the baking mat and then on a cookie sheet. My cookie sheet doesn't have sides and I seriously despise cooking pizzas on it. The pizzas always seem to get stuck and clean up is a nightmare that involves a massive amount of scraping and scrubbing. I had big hopes that this time would be different. I was not disappointed with the baking mat.
The pizza cooked perfectly evenly and came out of the oven perfectly. I lifted it up all the way around and there was no sticking at all. The baking mat was a pleasure to work with and made baking a much easier task on both occasions!  The only thing I would change about this baking mat is the thickness. I wouldn't recommend using sharp objects near it or cutting anything on it because it is very thin and very easily cut.

 
Elements used to create Featured image Artwork provided by
Created by Jill
.