Big Boss Swirlio
 
The Big Boss Swirlio is the healthiest, easiest my economical way to make frozen desserts. Traditional ice cream makers can be bulky, heavy and time consuming compared to the Swirlio. This would be perfect for someone who has a bit of a soft spot for ice cream, frozen yogurt or gelato but is trying to cut out sugar and processed foods. Using fresh fruits you pick out yourself you can make a frozen dessert in just a few minutes (not counting the freezing time of fruits).
It's so easy to use and it's just about ready as soon as you pull it out of the box, but don't worry it comes with a very thorough instruction book that tells you exactly how to put it together should you need the directions the second time you use it, trust me there will be a second time. There are no metal blades and the parts that weren't already in place were set up in less than a minute.
When making your frozen dessert you need to start with frozen fruit. You could start with a bag of frozen fruit so you would be able to get to you treat faster or if you had a little more patience you could use fresh fruit and freeze it for at least 12 hours before making your frozen dessert. I like to use fresh fruit that my family has picked from one of our local orchards. It makes things a little more rewarding at the end. As with any small appliance the Big Boss Swirlio can be loud so make sure to warn those around you and maybe make sure you aren't making it during nap time. Clean up is so easy and quick. Just take it apart, rinse off and let dry. If you don't want to do the clean up yourself the best part is that it is dishwasher safe.
You can make hundreds of desserts with the Big Boss Swirlio and if you are stuck for any ideas it comes with a 50 recipe book with cookbook quality photos and is full of ideas from frozen creamy treats to sorbets to drinks (alcoholic and non) to sauces and dips.
The Big Boss Swirlio with a 3 year limited warranty, 5 colors and an option for 3 payments of $19.99 and can be purchased at http://www.buyswirlio.com
To see other amazing Big Boss Kitchen Products or get even more ideas of things to make check out Big Boss Kitchen Products on facebook or Big Boss Kitchen on Pintrest.
If your looking for a healthy way to have a frozen dessert with words you can actually pronounce and without the added sugars then the Big Boss Swirlio is the machine for you!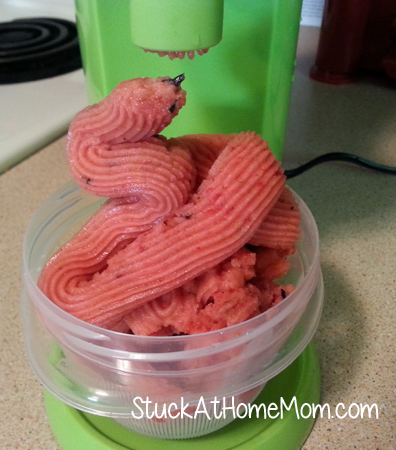 Elements used to create Featured image Artwork provided by
Created by Jill
.