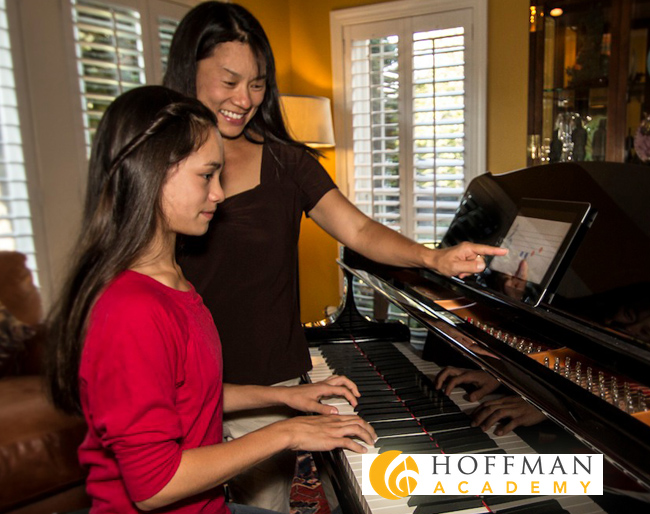 Since my ten year old daughter has shown interest in learning music, I have been looking for free piano lessons online for her. I wanted something that would be a challenge, but not so much that she would want to give up. Unfortunately, I didn't have much luck for a long time. Most music programs are really expensive or too difficult for a non-music person like me to teach. Well, I finally found an alternative that works great for both of us. It is a wonderful piano program created by Hoffman Academy.
My daughter picked up on learning the lessons right away, and loved the simplicity of the program as much as me. By the end of the first lesson, she was playing Hot Cross Buns, her very first song! Mr. Hoffman even takes the time to explain the origin of the song and what it is about. He explains the keys and notes in great detail, yet makes it easy and interesting for children and adults. I can't tell you how good it feels to see her so excited about this program.
Not only do I love the simplicity of the lessons, but I love that my daughter doesn't have to spend hours and hours working on piano. She does the recommended two to three lessons each week, and each lesson is only five to fifteen minutes long. On the days that she isn't doing a new lesson, we take the time to review what she has already learned and she practices playing. It is never a headache for either of us.
Hoffman Academy makes learning piano simple enough for anyone to learn, and my favorite part is that the online video lessons are free!
While the learning materials are not required to learn any lessons, I highly recommend buying them. You won't be spending much though, as all four units can be purchased for only $60. If they are bought separately, each unit is $19. This is a steal compared to so many of the other piano lessons that I have found online. Each unit comes with music theory worksheets and activity pages, song sheets with practice instructions, piano listening MP3s, practice and play along MP3s, and the parent's guide.
Find Hoffman Academy on Facebook, Twitter and Pinterest.
Elements used to create Featured image Artwork provided by
Created by Jill
.