Triple USB Car Charger!
How often do you get stuck with a nearly dead smartphone and no charger? If you're like me, it happens way more than you want to admit. I prefer a USB car charger but I find I'm replacing them a lot due to them melting, not charging quickly enough, or only working for a short time. Then again I hate spending a large amount of money on something so small so I usually pick up the cheap ones. I've been too afraid to spend a good amount just to have the USB car charger quit or not work well enough to justify the cost.
The Triple USB Car Charger from Adfilic is an impressive product. It plugs into your car and has 3 USB car charging slots. All three slots work well and don't interfere with each other. The USB car charger slots offer the ability to charge any device, android or i-device, without any overheating or slowing down of charge.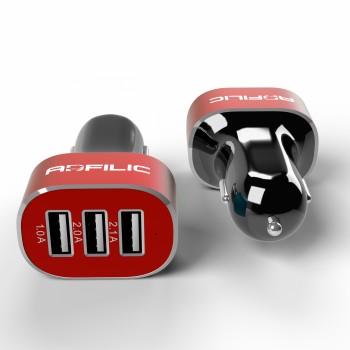 The cords plug in snugly, which is awesome since all of the others I have tried tend to stick out a little and that drives me crazy. The device itself is small and compact, which keeps it out of my way since there's nowhere to stow it in my car. The small design means it doesn't get in the way if you are trying to shift gears. It also doesn't get in the way of my cup holder, which makes me a very happy woman.
It's not easy to find a good USB car charger. This one is most definitely one of the good ones and I'm glad I found it. I rely heavily on my ability to charge my phone and tablet while I'm on the go and this USB car charger has not let me down!
*Giveaway*
The great folks at Adfilic are allowing me to giveaway a Triple USB Car Charger to 1 of my faithful followers!
To enter:
Step 1. Just Tweet this post! Anyone tweeting the post will Qualify!
(Use the Tweet options at the top or bottom of this post for easy tweeting)
Step 2. Leave a comment below letting me know that you've completed step 1.
Please note: When leaving a comment, please put an email address where you can be reached in the Email field and NOT in the comment itself.
Rules: Giveaway runs from 9/3/2014 12:00pm eastern through 9/10/2014 11:59pm eastern. Must be 18 years old to enter. Valid in the US only. StuckAtHomeMom reserve the right to cancel the giveaway at anytime without notice for any reason. We reserve this right to ensure that the giveaway is fun and not soiled by internet trolls.
Elements used to create Featured image Artwork provided by
Created by Jill
.