The Hydracentials Sporty 25 ounce stainless steel water bottle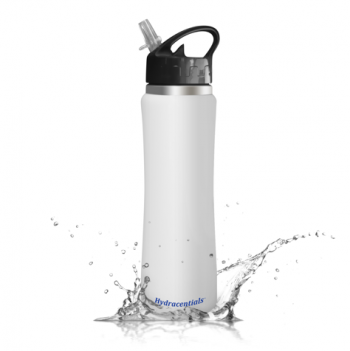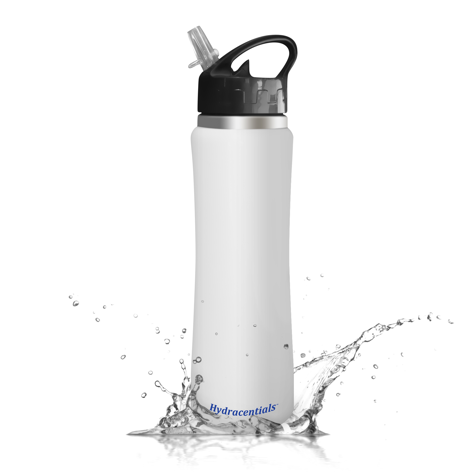 When I had the chance to try out the Hydracentials Sporty 25 ounce Insulated Stainless Steel water Bottle with flip cap and straw I might have been a little more excited than normal. I'll admit I have a (un) healthy obsession with water bottles.
I try to drink as much water as possible for my overall health and to set a good example for my kids.  The plastic water bottles we have always had a funny taste when I drank from them. You know that taste I'm talking about.  That funky taste that makes you never want to drink from that bottle again and it ends up in the back of your cabinet.
I did not have that experience with the Hydracentials Water Bottle because it is made from durable and sturdy premium quality 18/8 food grade stainless steel! This Hydracentials Sporty 25 ounce water bottle is a great eco friendly sports bottle. This double wall insulated water bottle is PERFECT for carrying while walking, hiking, camping, use at the gym or just on the go- as it fits great in most car cup holders (Product Dimensions: 12″ H x 3.25″ W). No more spills and messes while driving! The Hydracentials sporty 25-ounce water bottle is only recommended for use with cold beverages due to the flip spout and straw drinking mechanism.
Due to the double wall construction of the bottle it keeps drinks cold for hours! In the past when I get busy and forget to drink my water I usually end up pouring it out because it has gotten warm and I like my water really cold. That is no longer a problem. When I remember to go back and drink my water from the Hydracentials sporty 25-ounce water bottle it is still cold, even hours later! I think it is safe to say that I can clear out my water bottle cabinet and replace all those bottles with just a few of the Hydracentials sporty 25-ounce water bottles for the rest of my family.
Elements used to create Featured image Artwork provided by
Created by Jill
.