The package with my new case was delivered just as I was running out the door to a meeting and I figured this would be the perfect time to give it a trial run. When you do reviews, if you can do them in real time half the work is done for you.
I got the delivery and like everything in my life these days I have to kill 2 birds with 1 stone. I pop the case out of the box, grab the tablet from the charger and as I'm running out the door with my jacket half on and my pocket book clenched in my teeth, I actually got the tablet into the case using one hand before I made it to the car!
Of course I slid in to the car throwing everything to the passenger side seat and while I was hunting for my keys in the mess of paperwork, bags, emergency napkins, child's retainer – the case and tablet hit the floor – GLUP! I had the case all of 3 minutes! Case and Tablet – good as new – no damage to either! And thank God because for the next few days the thing got the test of it's life.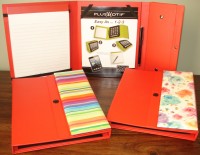 So far the case has gone to work, been left out in the car over night during a blizzard, went to bed with my daughter twice, folded in what we call the "Movie" position on the back of the toilet while my daughter sat on the potty watching a movie and I got an extra 2 ½ minutes in the shower!
It's so functional, every day I find a new use for it!
Last weekend we went on a drive, I took a piece of yarn tied it between the head rests and flipped the Papier De Maison case around it – perfect for in car movies for the girls.
I can type on one side, then flip it over and make a quick to do list, then flip it back over and work some more on the Android. It's great when I find a recipe online, I just flip it around so it's standing up and I can read it and cook at the same time.
It's perfect in the "movie" position to be used as an art board with a drawing app and the back of the pen is the perfect paint brush.
During parent teacher meetings it's a great distraction for the kids who would normally be whining and begging to go home.
I couldn't pry it away from my 8 year old while she was doing her Eclipse report! It was perfect, she had it flipped open doing research on her project on one side and took notes on the other at the same time!
And it's perfect for work. When I'm sitting in a meeting, I have my laptop open to our current project, researching on the Tablet and taking notes with the pad and pen!
I almost forgot to mention it's GORGEOUS! It's an attention getter that's for sure, I even look busier when I'm using it.
You can find a Motif to match your personality, style, shoes! You name it! [tippy title="Click for Product Information"]The new Plus Motif Tablet Case is offered by Papier de Maison and is available in 4 sizes to accommodate tablets and e-Readers. It comes in 16 colors and is complimented by 72 different Motif Designs. The Motif Design snaps easily on the cover to give a customized look to your tablet cover.
Every tablet case provides a notepad for jotting down things to remember and a 2 n 1 stylus pen that combines the function of a stylus and a traditional writing pen. In addition each tablet case provides:
· Interchangeable for right or left hand usage
· Provides the ability to stand up tablet in three positions for a variety of uses
· Protects Tablet with padded back, magnetic closure and four black elastic bands to hold your device in securely.
The large case that fits the iPad case retails for $39.99 with Motif Designs for $5.99 each.
The medium size fits the iPad mini retails for $34.99 with Motif Designs for $4.99 each.
The small size fits eReaders retails for $29.99 with the Motif Designs for $3.99 each.
There is also a journal that retails for $17.99 with the Motif Designs for $3.99 each.[/tippy]
This is my favorite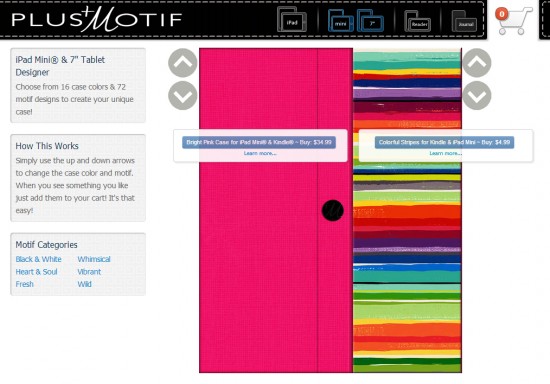 It's Giveaway Time!
Entering the Giveaway is Very Simple. All I ask is that you visit the

sponsor's site *Papier De Maison*,

then leave a comment below telling me which Motif you like best!

Which do you like best – Whimsical, Heart & Soul, Vibrant, Fresh, Wild or Black & White?

One lucky winner will received a gorgeous 10″ Papier De Maison case with Motif!
See Rules Below for dates and times
I received no monetary compensation for this post. I did receive a sample of the product to try in order to write an honest review. The opinions expressed in this review are my own and were not influenced in any way. Furthermore, I am in no way liable for any injuries that may result from the use or misuse of this product.
RULES: Giveaway open to U.S. Must be 18 yrs or older. Giveaway ends Sunday, April 7, 2013 at 11:59 EST. Only 1 person per household may enter. Rules must be followed and required entry must be answered. Winner is selected using Random.org and will be emailed and given 72 hours to respond. In the event of no response a new winner will be chosen. Prize fulfillment comes directly from participating pr and not from blogger. Owner and writer of this Blog is not responsible for prize fulfillment or lost or stolen prizes. Once I email the sponsor your information it is up to the sponsor to fulfill the prize. Sponsor has the right to refuse filling prize for duplicate winners from other blogs. If this should happen a new winner will be chosen. Prizes can take 4-6 weeks to be delivered. In the event that a prize is not received I will do all possible to contact the sponsor and work through for a solution. By entering this giveaway you agree to have read these rules. If you have any questions please contact me
Elements used to create Featured image Artwork provided by
Created by Jill
.