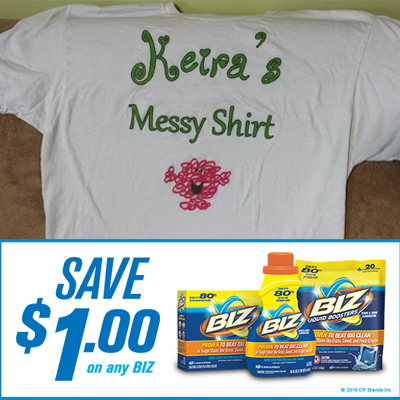 Being a mom is a tough job! The days never seem to be long enough, and it can be difficult to keep up with all the things on my to-do lists. Add to that the work it takes to run my own business, and it makes for a super busy life. That's why I am always on the lookout for things that will make my work as a mom a little easier. Most recently, that thing has been the laundry.
To say that I dislike laundry is an understatement; I loathe it! I sometimes wonder how the four people in my family can go through so much laundry! Before I finish one pile, there almost always seems to be another in its place. While I know that keeping up with the laundry will always be a never-ending battle, I am so glad to know that I now have Biz Liquid Stain and Odor Eliminator on my side!
My first time to try Biz was on my toughest stains, and to be honest, I was a tad skeptical. My daughter has what we call a "messy shirt," and she wears it for painting and other craft projects at school. When I added Biz Liquid to the wash, I was surprised to see that the shirt came clean! You can also spot treat with Biz, and it is great for getting out deeper, more set-in stains.
I have also used Biz Liquid in other loads and found that it is the perfect addition to my regular laundry detergent! It cleans stains wonderfully, and it even removes stinky odors. My oldest daughter tends to have stinky socks, and normally, getting the smell out is nearly impossible! But I noticed that since using Biz, the smell is gone! I can't tell you how happy this makes me! I have been very pleased with how well it has worked in our laundry.
Since we are allergic to so many things, it can be difficult for me to find products that don't bother us, but Biz is unscented, so we haven't had any issues. Biz is also environmentally friendly because it is made with biodegradable surfactants. I like knowing that what goes down my drains is good to the earth.
Right now you can print a $1 off coupon!


Elements used to create Featured image Artwork provided by
Created by Jill
.