Hi guys! Erica here! Fall is upon us, and we are finally experiencing some relief from the hot weather. Where I come from, that means football! Football season is a favorite here in the southeast, almost unbelievable to newcomers, and certainly unexplainable to those who have never experienced it. But it also means some of my favorite things; changing leaves, homecoming dances, Halloween, and pumpkin spice everything! But certainly one of the best parts of fall is the coffee! Yes, I realize that many people drink coffee year round, but for me, the weather has to be cool. And I love my coffee. There is nothing like taking a sip of the comfy, warm, goodness! Except… when it's been sitting in my cup a while and isn't hot! Eeew! Nobody wants their hot coffee to get cold! Well there is a solution to that problem. Try the HOG Insulated Travel Mug!
The 30 oz HOG Insulated Travel Mug is stainless steel, and it comes with a splash resistant lid and a stainless drinking straw! You can fill it with your coffee in the morning, and expect it to still be hot all day long, so that you can enjoy your coffee with lunch and dinner. Not only will the HOG Insulated Travel Mug keep your coffee hot, it will keep your tea cold; or whatever cold drink you decide to fill it with. That's a super awesome thing for me; I am a sweet tea fanatic, and I love it cold! With this mug, it will stay cold all day!
One thing that I really love about this cup is that it doesn't sweat! I know you have experienced this frustration… try enjoying a bag of chips, then take a sip of your drink. Your hand gets wet, and you can't put it back into the bag of chips without getting the chips wet too! This won't happen with the HOG Insulated Travel Mug. You will be able to enjoy your snack without the mess. It also comes with a lid that has a slider closure, minimizing the risk of spills.
The HOG Insulated Travel Mug is BPA free and is excellent for the eco-friendly consumer. You will love that it is safe and free of toxins while also minimizing your impact on the earth.
Enjoy your drinks, hot or cold, all day with this travel mug! And your satisfaction is guaranteed, so go get one!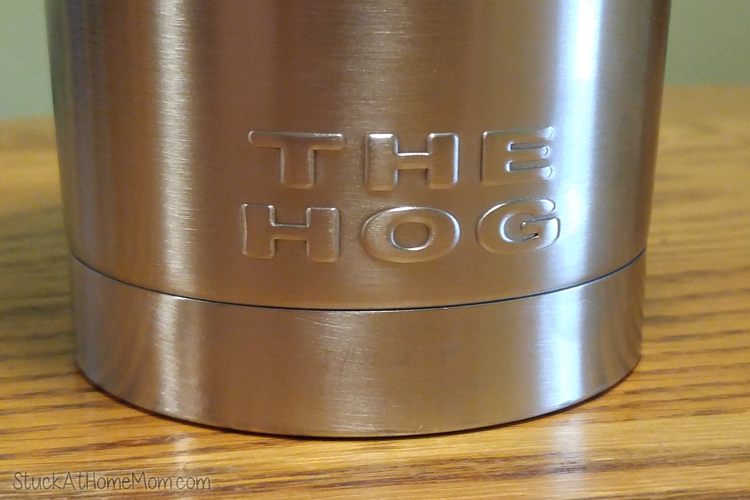 Elements used to create Featured image Artwork provided by
Created by Jill
.