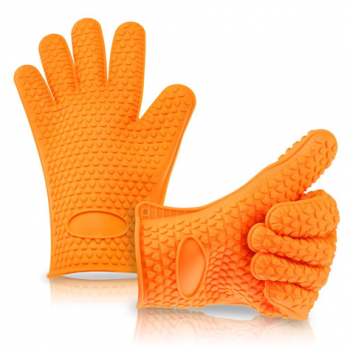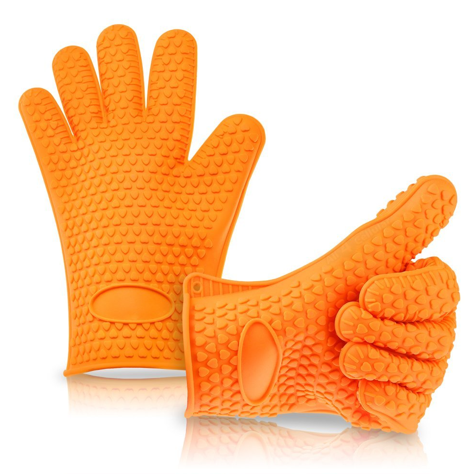 KitchCo Premium Silicone BBQ gloves
KitchCo Premium Silicone BBQ gloves are the perfect gloves for my husband to use while using his smoker. Before getting these gloves he was always making my potholders dirty with the rubs and sauces he used. I have a few that now have stains on them that I couldn't get out in the washer because of him.   The KitchCo Premium Silicone BBQ gloves are easy to wash by hand but even better that they are dishwasher safe.
When he asks me to help him and move the racks around in the smoker I always picture dropping one of those racks and with the racks the Boston butt that's usually on it! Now I can feel confident while rotating them because these gloves have a no-slip five-finger design with a strong grip so now if I drop it I really have nothing to blame but my clumsiness.
The KitchCo Premium Silicone BBQ gloves are great to use for things in the kitchen. I love to use these when I am making things that have to be stirred every so often during the cook time. When making chex mix or granola which has to be stirred every 15 minutes during their cook time I hate taking them all the way out of the oven to stir them but with these gloves I can hold on to pan while stirring. It's easier than trying with a potholder. Before when I tried to stir while holding them with a potholder I ended up with chex mix or granola on the bottom of my oven now I don't have that problem. The KitchCo Premium Silicone BBQ gloves can withstand heat up to 446 degrees Fahrenheit (230 degrees Celsius) so it's great for most things on the grill or on the stove.
These gloves fit well on my husband's hands, which are considerably larger than my own. He would like them a little bigger but that is just his preference. They are a little big on my own hands but not so big that I cannot use them.   I really like that we both can use them and don't need separate ones.
When purchasing from Amazon, use code: 7QR7MBOM and receive $2 off!
Post sponsored by: KitchCo Premium Silicone BBQ gloves #silicongloves
Elements used to create Featured image Artwork provided by
Created by Jill
.