Monteverde Tool Pen
I love gadgets, but I mostly love digital gadgets. A little anything extra to make my gadget extra special and I'm all in.
When I saw a review posted for the Monteverde Tool Pen I was ALL OVER IT! Talk about your mommys little helper. At first glance it looks like a pen and it is. Then you see the top and you realize it's also a stylus. Then you start exploring and it's Christmas!
There is a mini screw driver and of course a ruler, but the ruler is in every conceivable measurement unit.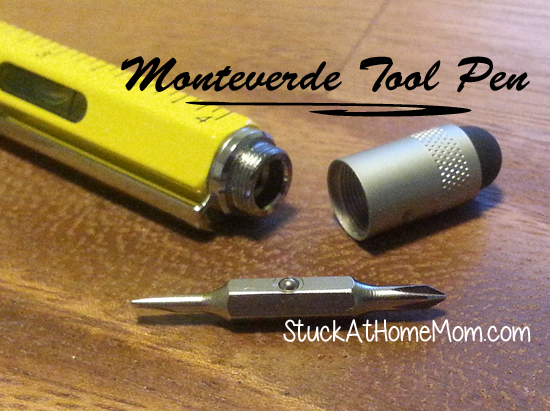 The Monteverde Tool Pen is heavy weight, but easy to use. It has a 6-sided barrel which houses a smooth soft-roll ballpoint and on the top a ultra sensitive touch screen stylus. Remove the stylus on top to find a Philips head and a flat head screwdriver.
On the top section of the stylus pen is a built in level and around the barrel are 4 different measuring units. The spring clip will hold the Monteverde Tool Pen securely in your pocket so it's ready to use whenever you need it.
This is the perfect carpenters pen or anyone who works with their hands and their smart phone. It's even great for a Stuck At Home Mom. I can quickly measure something for the kids, fix glasses, write a note or flip it around to use with my smart phone when it's much to cold to take off my gloves!
Monteverde Tool Pen is a:
* pen
* stylus
* multi-unit ruler
* phillips screwdriver
* bubble level
Colors: yellow, black or silver.
Refills come in 10 different colors.
With all its tools you almost forget it's a pen! The pen writes smoothly without a gloppy mess. Obviously you'll need replacement ink in the future, but changing it is quick and easy. Just unscrew the pen portion, remove the old ink cartridge, install the new cartridge, screw it back together and you're ready to go.
PenChalet.com has been gracious enough to offer my readers a coupon code for 10% off this wonderful Monteverde Tool Pen. Just use the code STUCKATHOME when ordering (valid until the end of March)
*Giveaway*
Along with the coupon code PenChalet.com was nice enough to send an extra Monteverde Tool Pen to giveaway to one of my followers.
To enter:
1. Please follow me on either my FaceBook profile: eDee Williams or my FaceBook Fan Page (or both)
2. Leave a comment below.
Please note: When leaving a comment, please put an email address where you can be reached in the Email* field and NOT in the comment itself.
Rules: Giveaway runs from 2/24/2014 12:00pm eastern through 3/3/2014 12:00pm eastern. Must be 18 years old to enter. Valid in the US only. StuckAtHomeMom reserve the right to cancel the giveaway at anytime without notice for any reason. We reserve this right to ensure that the giveaway is fun and not soiled by internet trolls.
Elements used to create Featured image Artwork provided by
Created by Jill
.