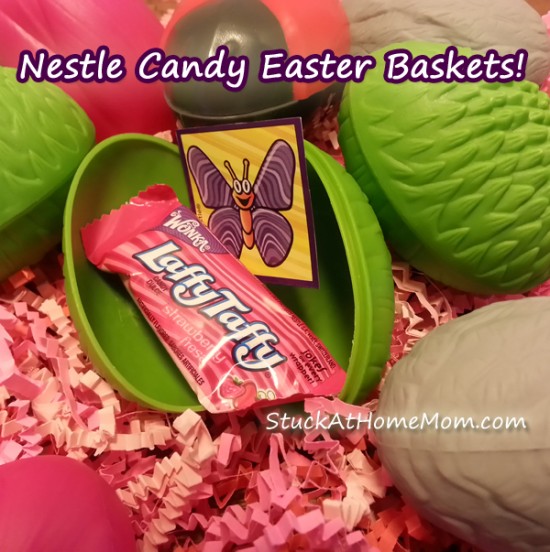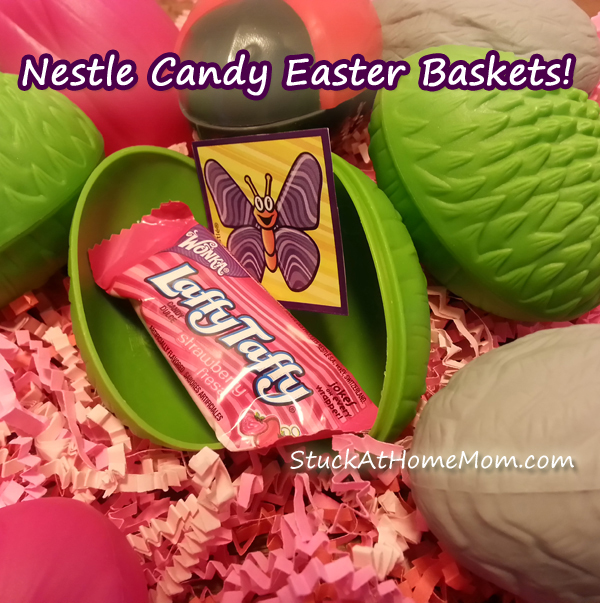 Nestle Easter Candy!
Easter is almost here! And Nestle has some great treats that will blow you away.
Nestle was nice enough to send a fully stocked Easter basket including a fuzzy bunny and a chocolate bunny! The latest assortment of candy themed treats for this years Easter basket include SweeTarts Gummies, Jelly Bean Pouches and a wonderful game called WONKA Hard2Find Egg Hunts.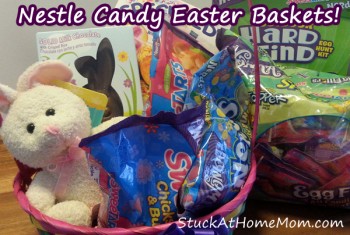 My girls enjoyed a pre-Easter hunt using the Hard2Find Egg kit. Each kit comes with 12 Eggs, 12 stickers and 12 pieces of candy. Considering it's April in Maine we weren't able to go outside and do the hunt, but our living room provided a nice place to search for eggs. After they found all the eggs once, the girls hid them on each other – the game went on for hours and I just sat back and watched! My youngest has taken to carrying around the ladybug egg, even taking it to bed with her every night.
The combinations that Nestle has dreamed up include: WONKA Laffy Taffy Jelly Beans, Butterfinger Bunny and Crunch Bunny, NERDS Bumpy Jelly Beans and SweeTARTS Chicks, Ducks and Bunnies, just to name a few!
Did you know according to the National Confectioners Association, Easter is the second top-selling candy holiday? Doesn't surprise me. I can remember waking up as a little girl with baskets filled to overflowing with candy on Easter morning. Unlike my parents I don't make my girls go to church before they get to dive in! Funny thing is usually after the ears are off the chocolate bunny my girls are ready for a meal ….. and then of course more candy!
One of our favorite treat ideas is to top cupcakes with colorful Nerds candies. A little white frosting and just sprinkle the Nerds on top and presto! Colorful cupcakes popular for holidays, birthdays or any days!
Nestle generously sent many bags from their candy selection. More than enough candy to fill several baskets and giveaway a few bags!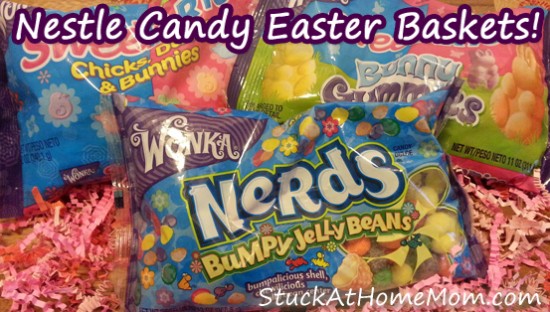 This is going to be a quick giveaway so I can get the winner the candy by Easter!
Prize: 3 bags of candy! (1 bag of Nerds Bumpy Jelly Beans, 1 bag of SweeTARTS Bunny Gummies, 1 bag of SweeTARTS Chicks, Ducks & Bunnies as seen in the image.)
Easy to enter: 1. Please Follow Nestle on FaceBook:
2. Leave a comment below.
Pretty simple!
Terms: Giveaway runs from 4/9/2014 to 4/15/14 11:59pm | Open to US residence only | Must be 18 or older to enter | Void where prohibited | One entree per house hold | StuckAtHomeMom.com is responsible for providing the prize. | Winner will have 48 hours to respond to the winning email. If the winner does not respond to the winning email another winner will be chosen. | StuckAtHomeMom.com reserves the right to alter or end giveaway at any time for any reason.
Elements used to create Featured image Artwork provided by
Created by Jill
.