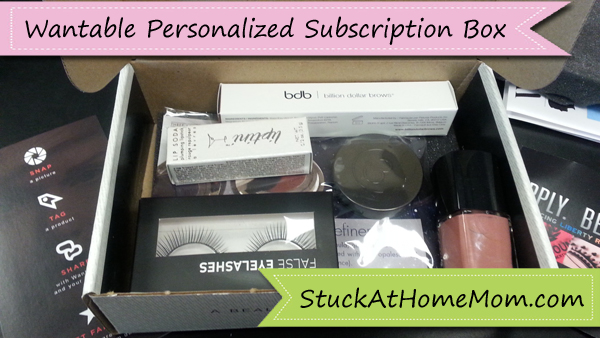 Wantable Personalized Subscription Box
Wantable has a unique way of bringing cosmetics right to your door. You create your own personalized profile that guarantees that what you choose is the right product just for you and your taste.The boxes are fully coordinated to fit your style. How great is that?
The Company is based in Milwaukee Wisconsin and all the products are guaranteed. I have yet to find a product that I would want or need to return! This is by far my favorite makeup! I love the lipsoda called Liptini. Its a wonderful full color lipstick that plumps up your lips and stays on and on!
True color-beautiful colors for your lips and I feel is a great value for something so rich feeling! For a glamorous and natural look try Carylon False eyelashes. Your eyes will look dramatic for that night out on the town or natural enough for anytime day or night. Easy to put on with staying power to go all day. Easy to use and natural-you can't go wrong with these!
I would recommend the Opaline Cream Eye Definers. Smudge proof and smooth gliding eyeliner that makes your eyes shimmer with rich color. Go light for just a hint of color or go bold. Either way you will love it! This eyeliner is by far the longest lasting eyeliner I have ever used. The color stays and stays!
Another great product is the Billion Dollar Brows. Gives your brows a tint of color with great hold. Its a hassle free natural look and adds some "pop" to your brows. I am new to using eye gel so I was pleasantly surprised on how easy to use and how pretty it made my brows look! I think you will like the effect!
And who wouldn't want to try some of the beautiful Nailpolish shades that are offered by Wantable. The polish goes on smooth and is chip resistant. They have a great choice of trendy colors to choose from! Price of these products are very reasonable considering the quality and you get a guarantee! You get a choice of receiving a monthly shipment or a one time shipment. Either way its guaranteed with no hassle – Love that!
Elements used to create Featured image Artwork provided by
Created by Jill
.