Ozeri Makes a Great Pedometer!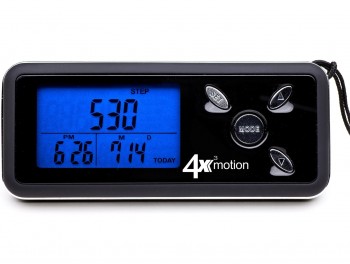 Most of us love a good pedometer. I know I've tried using apps on my phone to count steps but that's rarely ever accurate. So, if you want to know how many steps you are taking, and you want it to be accurate, you need a decent pedometer. The question up until now has been where to find a good pedometer!
The Ozeri 4×3 Razor Digital Pocket 3D Pedometer is a fantastic little pedometer. And when I say little, I mean little. It is a 0.5cm thick and weighs only a half an ounce. This is the perfect pedometer for someone who doesn't want anything big and bulky. It comes with a lanyard so you can secure it and make sure you don't lose it. It is guaranteed that it won't get in your way. The size could be a downfall if you are prone to losing things, so that is something you will want to watch for, make sure you keep it attached to you.
For something so small it is jam packed with useful features. It counts steps. It also records distance, calories and fat burned, and exercise time. It has a 7 day memory, a clock, a timer, and a built in auto sleep function. It's hard to believe that something so tiny can do so much!
I've found it to be incredibly accurate. As long as its hanging loosely around my neck or in my pocket the count is very close to what I counted in my head. The instructions say to keep it in your pocket, but I'm really afraid of losing it so I prefer to have it around my neck on the lanyard. Even around my neck it's far more accurate than the pedometer app on my smartphone and really that is what's most important. So far the Ozeri has lived up to all of it's claims and I couldn't be more impressed!
Elements used to create Featured image Artwork provided by
Created by Jill
.