PhantomFit Resistance Loop Bands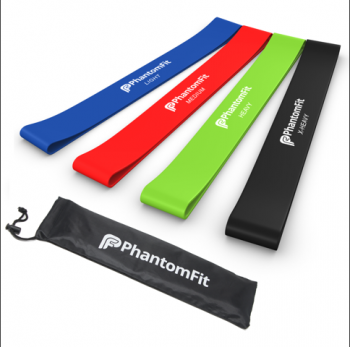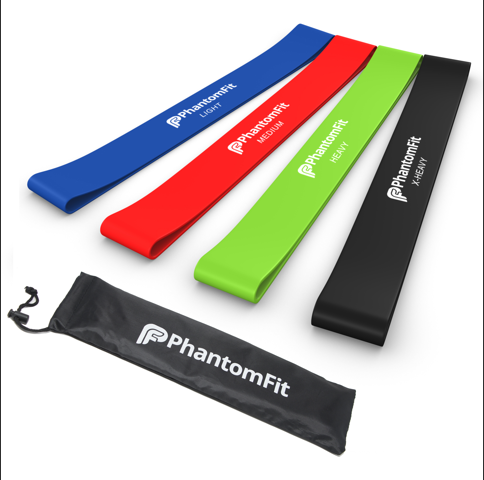 PhantomFit formed in 2014 when two fitness and marketing experts, Ryan Martin and Jon Wedel, came together to change the way people get fit. Phantom Fit currently manufactures resistance loop bands and wrist wraps but will be adding many more products to the product line soon.
PhantomFit Resistance bands are the best solution for those that want or need to work out from home on your own time. They are perfect for those that in physical therapy all the way to those that wants to do an intense workout.   They work great for arm, ankle and let workouts.      The bands themselves are made from durable latex that is snap resistant and will strengthen your body. It is perfect for squats, lunges, side-to-side exercises, stretching, and much more. The warranty is amazing too! If any of your bands snap, Phantom Fit will replace them free of charge!
PhantomFit Resistance bands come in a set of 4 including 1 blue "light" band, 1 red "medium" band, 1 green "heavy' band and 1 black "x-heavy" band to meet your resistance needs.  The Phantom Fit bands are ideal to use one band at a time, or combine multiple bands for a more strenuous workout. There are 15 different single or multiple band combinations.
With these bands it doesn't matter if you are a fitness expert of novice, Phantom Fit products will help you get fit while being safer. PhantomFit Resistance Bands are very durable, long lasting, lightweight and the most important part for me they are very portable with the nylon carrying case that is included. It doesn't matter if I am away from home on vacation or not I can work out anywhere! I'm not confined to my living room, where I normally workout.  I love that it also came with workout music that is downloadable as an mp3 file.   PhantomFit resistance loop bands have made their way into my daily exercise routine because of them I have no excuse not to exercise no matter what is going on around me.
Elements used to create Featured image Artwork provided by
Created by Jill
.