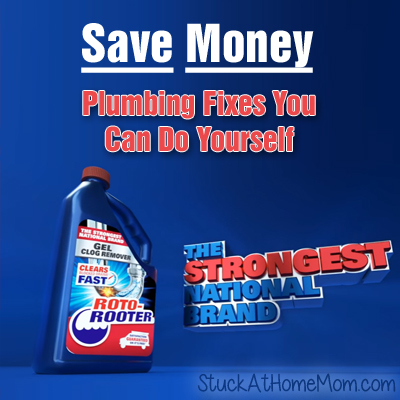 Hey guys! It's Erica here! We recently had to hire a plumber to come out and repair some pipes in our shower. I have no idea what happened, but there was a huge leak, and when the plumber left, there wasn't! And as a bonus, we got a whole new faucet and handle, which was totally fantastic, until the plumber handed me a hefty invoice that I had to pay before he left. Paying a plumber is not something I especially enjoy, so I thought about how awesome it would have been if I could have saved money and just fixed the leak myself. Maybe I couldn't have fixed that, but there are several plumbing fixes that can be easily done on your own. So before you call a plumber, first consider if it is a do it yourself project.
Replace a Toilet Seat: A few months back, we moved into a new-to-us home. I will be honest… the toilet seats were an eyesore! They were ugly and didn't match the bathrooms. Plus, they didn't really even fit on the toilets just right. So we headed to our local home improvement store to find replacement seats. I was surprised to learn just how easy the seats were to replace, and I saved the money it would have cost to hire someone else to do it!
Clogged Toilet: For starters, I would say to avoid the clogged toilet in the first place. Lots of things lead to a clogged toilet, but often times it is because of too much toilet paper or products that are not flushable. Be sure that you are conservative with flushing toilet paper, and if it isn't toilet paper, simply don't flush it. You can also prevent clogs by using Roto-Rooter Build Up Remover. Used monthly, this product will help prevent your toilet from becoming clogged. Of course, you can be super careful, but it is inevitable; we all end up with a clogged toilet from time to time. Before you call a plumber, try to fix it yourself with a plunger. You may want to change into some old clothes first though, as the dirty toilet water may splash out on you! But think of how much money you will save!
Clogged Shower Drain: This is a big one for me. I am always losing wads of hair at every shower. My doctor tells me that what I am losing is normal "shedding," but WOW it clogs up the drain! Every few days, I am digging hair out of the shower drain to prevent nasty clogs and slow draining water. Over time, it still builds up, so that's the perfect time to use Roto-Rooter Hair Clog Remover. It dissolves the hair and clears the drain super fast! This is wonderful for me, as I have very little time to wait for a plumber to arrive, and this product costs much less!
Next time you have a plumbing problem, before you call a plumber, check to be sure it isn't an easy fix. You might be surprised at what you can do on your own, and save yourself the cost of hiring a professional to do what you can do yourself!
Elements used to create Featured image Artwork provided by
Created by Jill
.