It's become increasingly obviously that my 4 y/o is just NEVER going to sleep through the night. It's not her fault its genetic – my Mother never sleeps more than 4 hours out of 24 (I've NEVER seen my mother asleep) My 8 y/o nephew has never gone to bed before midnight and wakes up bright and early every morning.
But this gets complicated when your children share a room! My oldest LOVES to sleep and though she can sleep through almost anything, she can't sleep through her little sister climbing all over her in the middle of the night.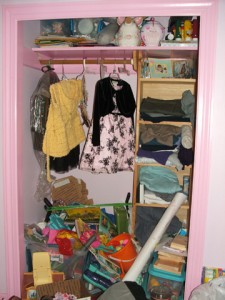 So we moved the big girl into her own room, "the cave" has become the master bedroom and the house looks like it was destroyed in an explosion.
The problem with moving children around in frustration and not planning your move is this >>>>>>>>
Everything gets shoved into a closet and nothing has a home. Worse yet, I have several other projects going on, I never did finish cleaning out the basement before Christmas and it filled up again.
I have 2 walls left to sand and prime in the living room before I can paint the living room, dining room and build a breakfast nook with storage.

I'm sure you've seen those shows where they take a phone booth and turn it into a stylish living space for a family of 6 – I'm doing something like that! I have plans for a few movable walls if need be and I can see a new entertainment center fliping around into a bed – it's all the rage.



And lastly there is studying! I need to improve my coding skills to get a good job, this means hours of actually writing code and what am I doing right now – blogging. I'm to tired to study because I haven't slept in 4 ½ years ……… so last night … around 2am …… when Tricia asked if I wanted to co host a giveaway about Febreze – and spring cleaning – it all made perfect sense!
This is the way projects go in our house:
Day 1 (if it's a Monday)
I realized I have nothing that I need to start the project and spend most of he day running across down to Walmart/Target/Home Depot to get supplies. Nothing gets done.



Day 2 (if the project starts on a Monday or Day 1 for all projects started on the other 6 days)
I am the Super Cleaning Mom! Or Super Building Mom! Or Super Joint Compound Mom! Or Super Mom!
There are bags of trash flying out my back door, walls getting primed, things getting organised.
I get over half of the project finished in record time.
Day 3 (Or day 2, if of course, the project didn't start on Monday)
I stop by Walmart to pick up a few thing and before I reach the house one or a combination of several from the list below, will happen.
I receive a text message or a phone call that:
A blog is down
WordPress blow up
A database is corrupt
Sister: can you pick up my kids?
Other Sister: can you type out a letter for me? I'll pick it up later?
Friend: can you edit my pictures I need them today.
I pick up a new client
A client with no idea what they want in a blog or if they even want a blog, maybe they want to sell or they could do both or ……..
Husband: can you pick up dry cleaning and make reservations
School: we need to have an IEP meeting
School: your daughter cut her mouth with safety scissors she may need stitches
Mommy has to first fix bulk bed which daddy fell through last night
Co-host a giveaway.
And the list goes on and on – not much, if anything, gets done.
Day 4 – repeat Day 3
And around this time the weekend hits and everything is put on hold until – you guest it MONDAY – see Day 1
I have everything that was dumped in the closet now dumped in the middle of the floor – but this is Wednesday right? I have 2 more days. I can do it. Tonight we're supposed to get 14 inches of snow, this pretty much starts our weekend
So who wants to do a giveaway? I know it's a little random, but it's a Give Away for $100 Amex Gift Card
I want to thank my #1 client and Dear Friend Tricia from The Night Owl Mama.com for inviting me to co-host. She's awesome! (and you're going to LOVE her new spring theme if I do say so myself!)
~ * ~ * ~ * ~ GIVEAWAY ~ * ~ * ~ * ~
WIN IT: If cleaning your carpets is starting to feel like a full time job and you just need a break from it all the generous people at Febreze want to make it easier on you. They are offering a $100 American express gift card to 1 reader. Febreze carpet care solution to 4 runners up.
To Enter Simply login to the Rafflecopter posted below with your facebook account (to keep track of your entries) or your email address.
NOTE: If your having trouble with rafflecopter loading try refreshing the page and see if that works. Sometimes the javascript gets hung up. If that still doesn't work let me know on Facebook and I'll direct u to a direct link
Disclosure: No compensation was provided for this post or promotion. Thoughts added are completely my own. See Rafflecopter for rules of entering. Open to U.S Only.
Elements used to create Featured image Artwork provided by
Created by Jill
.