Xpress Redi Set Go!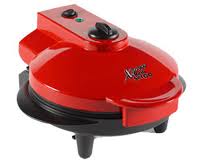 The biggest selling point with the Redi Set Go was the fact it made Pizza in 7 minutes. We have pizza every Friday, I make it from scratch and it's a pain to clean up. With the Redi Set Go – there wasn't the usual mess.
I was able to grab dough, pepperoni, sauce and shredded cheese at Wally World and before I got the dough flat the Redi Set Go was warmed up and … well set to go.
And it took 7 minutes. 7 Minutes and the pizza was perfect. My husband likes it burned to a crisp so his took 9 minutes, but still, 9 minutes with less than a quarter of the mess!
I was actually able to enjoy Pizza and a Movie night without worrying about picking up the kitchen before bed.
I have also made the chicken cordon bleu, but I substituted the Swiss cheese and the ham for things my picky eaters will eat – American cheese and turkey. But it was great! I didn't dry out the chicken for once, my husband actually ATE IT!
After you cook 2 or 3 dishes you'll get a feel for the timing then the sky's the limit.
Keep in mind I AM NOT A COOK. Dog's refuse to eat my cooking. I've been known to burn boiling water! But with the Redi Set Go I was good in the kitchen.
Pros and Cons
I'm going to start with the Cons, because there aren't many.
1) if your one of those who feels it's not clean until its been through the dish washer, you're going to want to invest in the cooking tries. I'm one of those and it's worth the 12 bucks.
2) The timer on the first one broke, BUT I emailed the company and they had a new unit to me in 3 days! 3 Days! The timers on these units aren't the best, I'd suggest using your kitchen timer. But it makes an entire meal in minutes and it's a GOOD meal, I'll use my kitchen timer and be very happy.
Now the Pros!
1) It stores upright and the cord raps around the bottom. So it's right there on my counter, waiting for me to use it.
2) Foods cooked in the Redi Set Go taste as good as they look on TV. The food looks great and tastes great!
3) Cooking time in the recipe book is accurate.
My 3 year old, sensory driven, non-meat eater – ATE IT!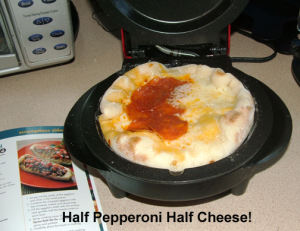 And now for "Things I read but failed to do and had to learn the hard way":
Remember to PreHeat the cooking 'trays' in the unit, with the unit. It's right there in the book, I missed it. If you don't preheat the trays it will take longer to cook – Obviously!
Spray both the Top and the Bottom of the unit before cooking.
Cool with the unit Open – it's much faster.
Don't leave it over night, clean it before bed. lol
Give Away Time!!
Win It: 1 Xpress Redi Set Go with 2 insertable pans, spatula, meal guide – AND a Kitchen Timer – I really don't like the timer on it.
Required Entry: You must post 1 comment leaving with an email address where you can be reached. Email address are not published if you put them in the email space provided.
Must leave a way for me to contact you if you win. Please read the rules before entering. U.S only must be 18yrs old or older to enter.
Additional Entries available after required entry has been fulfilled.
One Entry for Each of the following:
Like StuckAtHomeMom on Facebook
Follow @stuckathomemom on Twitter
Follow my blog Publicly through Goggle Friend Connect (found on the side bar)
10 Extra Entries
Blog about this contest, using a text link to this post, on your blog for 10 extra entries.
Daily Unlimited Entries:
Share this giveaway on Facebook by clicking the Facebook button below. Limited to 1x an Hour so you don't make your friends crazy by clicking any more than that. Make sure you make it public so I can verify.
TWEET this Giveaway on TWITTER, Limited to 1x an Hour. You may tweet this if you like:
I entered to win a Redi Set Go. @StuckAtHomeMom You should too! https://stuckathomemom.com Ends 4/17/11 #Giveaway
5 extra entries.
Post my button on your blog. Remember to leave a link to your blog in your comment.
Please leave a separate comment for each entry. The number of comments are entered and picked randomly, so you want to add a separate comment for each entry.
Disclaimer: NO monetary compensation was received for this promotion. I did not receive a free product for promotional purposes. This product was purchase by me and Stuck At Home Mom is sponsoring this contest.
RULES: Giveaway open to U.S Residents Only, 18 yrs or older. Only 1 person per household may enter. Rules must be followed and required entry must be answered. All entries of winner pulled will be validated for winning. Giveaway ends April 17, 2011 at 11:59 Cst. Winner will be selected using Random.org and all entries will be verified. Then I will email you and give 72 hours to respond. In the event of no response a new winner will be chosen. The Xpress Redi Set Go holds no warranty or guarantee. Blogger has the right to refuse duplicate winners from other blogs. Blogger has the right to end giveaway without notice for any reason.
Elements used to create Featured image Artwork provided by
Created by Jill
.