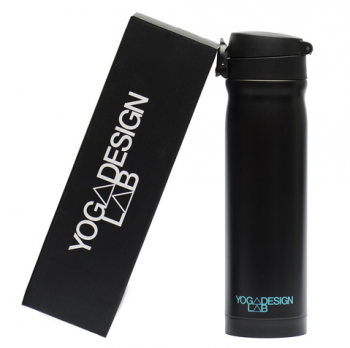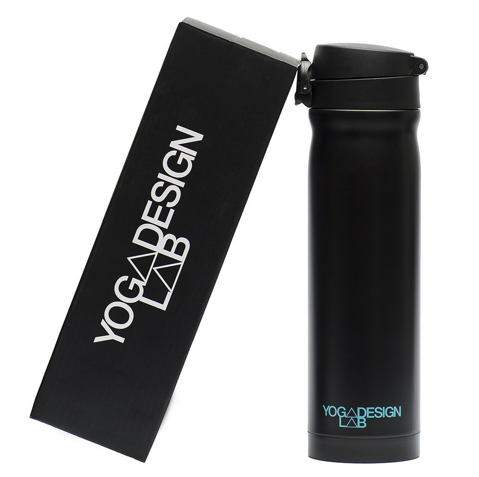 Yoga Design Lab Insulated Water Bottle, the last water bottle you'll need.
I cannot begin to tell you just how much I love the Yoga Design Lab Insulated Water Bottle. We take water bottles with us just about everywhere we go. The problem we usually have is when I am alone with the kids and wish I could just put the bottles in a diaper bag or backpack and not worry about them sweating and getting everything in the bags wet.   I love the fact that this water bottle DOES NOT SWEAT! I feel completely safe carrying it in the bags with the change of clothes I have for the kids for those just in case moments.
It is designed with a double walled stainless steel to work with both hot and cold drinks. When the kids and I go to the park or the pool the ice doesn't melt as quickly as it does in our other bottles and we all enjoy being able to drink cold water as opposed to warm water after running around.   I had my husband try it for his coffee when he has to go back into work in the evening. His coffee stays warm for the entire time. It says 12 hours but coffee never lasts that long around him.
With kids always knocking things over I like the fact that the Yoga Design Lab Insulated Water bottle's lid locks in place and you have to push a little button to get it to open. It is certified free from BPA, phthalates, hormones, lead, and other harmful toxins. It is designed to allow the perfect amount of liquid to pass through the sipping area, which makes it easy even for my youngest to drink from it.   The coolest feature, I believe, is that the company donates $1 from every purchase to an Urban Youth Program in need so not only are you helping the environment but your helping youth programs.
I think that it is safe to say we will be cleaning out our water bottle cabinet (yes cabinet I told you we like our water bottles) and switch them over to the Yoga Design Lab Insulated Water Bottle.

Elements used to create Featured image Artwork provided by
Created by Jill
.