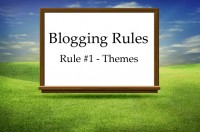 The Golden Rule of Themeing: A busy theme distracts from the content.
Look at my theme – what you see on either side of this post.
See all the crazy stuff on the sides – that stuff is distracting you from reading this.
The thought behind the rule is that if your theme is to busy no one will read what you've written.
My theme is extremely busy, but last month I received 400,000 views. Last week my blog received 150,000 views.
So why is my blog so busy with the busy theme? Because the Rule was written for Business Websites.
Here's eDee's Themeing Rule – No One will Ever Care about your theme as much as You Do!
People don't come to your blog to see your theme, they come because you have something they want.
My theme is wild, my spelling is atrocious, I don't understand sentence structure – why are you here? I have something you want. I have 400,000 views a month and you want that.
The truth is as long as you have something that someone wants it doesn't matter if your theme is 2010 and your content is filled with spelling errors, if they need it they will come.
Make your theme a reflection of YOU! It's blog, not a business website.
If you're selling something then yes, boring is better because your content needs to show up front and center, but my wild theme hasn't stopped you from reading my blog. You're still reading it. You're still here. You're probably wondering why you're still here since I'm just repeating myself.
BREAK THE RULES! See what happens. Your crazy theme may be just what gets you the attention you're seeking.
Elements used to create Featured image Artwork provided by
Created by Jill
.