Fans, Friends & Followers $25 Gas Card Giveaway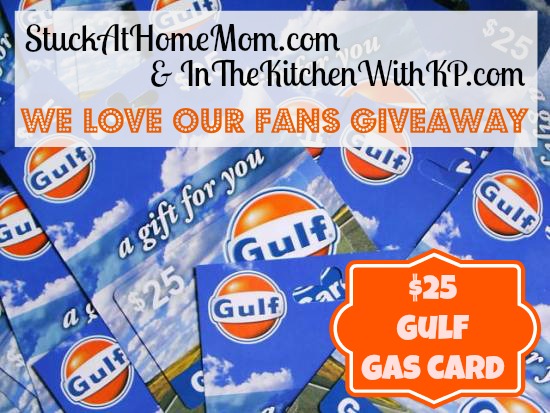 As Promised! I want all my Fans, Friends, and Followers to know I love you!
This summer I will do several giveaways. Some I will team up with Karen from In the Kitchen with KP and others will just be on FaceBook. So watch for the giveaways and enter.
Summer is made for fun and StuckAtHomeMom.com and In the Kitchen with KP are teaming up to make sure our Fans, Friends, and Followers are having a super fun Summer!
We decided to do a HOT giveaway for some gas money! We love you all and as a thank you for all your support, we are giving away $25 Gas Card!
To be eligible for the giveaway, the only requirement is to leave a comment on this blog post. We need to know that you have entered and how to contact you when you win.
If you want to increase your chances of winning, you can earn more entries by completing the additional listed tasks in the Rafflecopter form below. For every task you complete, you earn an entry. You choose how many or how few you want to do. No pressure. It's all at your leisure.
But don't wait to long to get your entries in because this is a short giveaway.
This giveaway will start July 10th and end on July 20th at 11:59 PM.
Disclaimer: This is a self promoted giveaway. Meaning it's just us and the blogs/sites we work for [well that eDee works for (:]
Rules: Must be 18 years old to enter. Valid in the US only. StuckAtHomeMom and In the Kitchen with KP are responsible for the giveaway and distribution of prize. This giveaway is in no way affiliated with GULF. StuckAtHomeMom and In the Kitchen with KP reserve the right to cancel the giveaway at anytime without notice for any reason. We reserve this right to ensure that the giveaway is fun and not soiled by internet trolls.
Elements used to create Featured image Artwork provided by
Created by Jill
.