Best Baked Potato Fries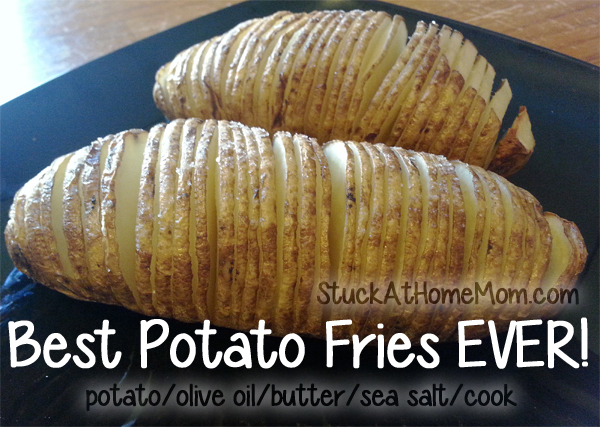 Once again I found an image on FaceBook and thought HEY – WOULD THIS WORK IN REAL LIFE!
You'll need:
Potatoes
Tablespoon – Olive oil
Tablespoon – Melted butter
Sea Salt
Cut the potatoes almost all the way through – this takes a little practice.
Drizzle olive oil and melted butter over the potato
Shake on a little sea salt
Bake at 425F for 30 minutes
The directions I found on FaceBook said to bake for 40 minutes, but than it turned into a baked potato – but when baked for 30 minutes it was crispy and French Fry like.
Once the baked potato fries start to cool just pick out the sliced layers with a fork or your fingers. The girls and I put down an old blanket, sit on the floor and watch movies while picking the potatoes apart.
Of course you can always layer on some cheese and bacon …. mmmmmm bacon, but in an attempt to make them a little more healthy, but not actually healthy I left off the cheese and bacon – but I high recommend you give it a try.
Elements used to create Featured image Artwork provided by
Created by Jill
.