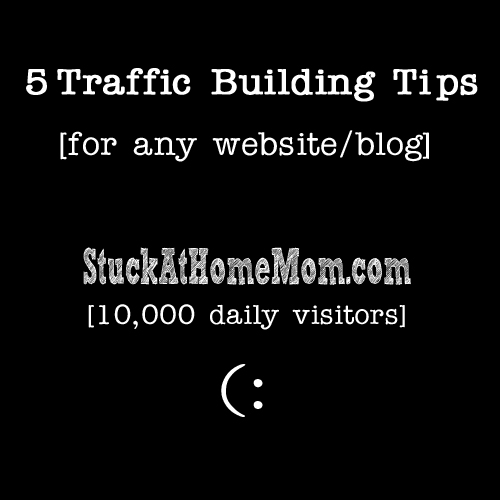 5 Tips on Traffic building that are so obvious you'll feel stupid that you didn't think of them
How I get 10,000 visitors a day:
1. I break the rules!
I am constantly being lectured by bloggers who tell me "you must stay within your niche!" "your theme is much to busy" "clean up your grammar and spelling"
Freaking Long emails about how I'm doing it all wrong and how dare I tell people other wise.
Well, I have a PR of 4 and 10,000 visitors a day …. And you?
When was the last time your blog was See On TV? Yeah, shut up and listen!
[blogger who've read a few eBooks on the subject are on my last nerve tonight -sorry about that]
I'm not one to mix Leap Frog giveaways with romance novel excerpts, but many popular bloggers do.
Niches work for some bloggers. I've known bloggers who have so much going on in their lives that it's relaxing to blog about nothing but hair weaves – if that's you, Great! Go with that.
But if you have so much more in you that needs to get out, than stop blogging about macramé and let loose!
If you don't have traffic now what stopping you from trying something new and different? I could be wrong, I don't think so, I have the traffic, but what if I am, it's not like you're going to have less traffic than you have now.
2. I'm not afraid to live outside the box
There is thinking outside the box, then there is me!
I sell ad links for a dollar.
I send dollars in test tubes through the mail
I offer bloggers a chance to win ad space on my blog by entering my giveaways or leaving comments on posts
I ask people to send ME a dollar.
Be Original.
Don't copy me – I've done it. The Awww value is gone.
Come up with something stupid and Do It!
Example: Do you realize what kind of traffic you can generate if people hate you?
Think Westborough, Howard Stern, Imus. No one wants to be hated, but you get the idea.
Do something different and unexpected. There are five billion recipe sites out there that you're trying to compete with – Every mother on earth is starting a review blog – How are you different? What are you doing to stand out? Do a review a day of the inside of the office toilet? Set up your camcorder, go out on the street, do something odd and record reactions. Have you ever seen the Lego site? The guy spent a year taking pictures of Lego scenes. There's a stay at home dad that has an entire blog of post it notes. Be the Next Original Thought![edeeism]
3. Don't sweat the small stuff
Boring themes, grammar issues, spelling mistakes are NO BIG DEAL – unless of course your blog is grounded in English Lit.
If you have something that someone wants it doesn't matter if you are using the standard 2010 theme and your blog is written in Pig Latin – They will come!
The only person who needs to love the look of your site is YOU! The idea is to GET PEOPLE TO YOUR SITE AND KEEP THEM THERE – your background doesn't matter as much as you think it does. You're here right? Why? Because I promised you something that you want Traffic! And #4 is the BIGGY!
4. Pin Everything
Pin, FaceBook, Twitter and Triberr! EVERYTHING you post should go out on those 4 platforms.
Think about it for a minute – How did YOU get here?
Now I'm going to share the BIGGEST BLOGGING SECRET with you. This is a biggy. I should probably save it for an ebook or something, but I'm going to tell you the BIGGEST BLOGGING Secret that no one ever admits. Ready?
**90% of my traffic comes to 3 posts! YUP! That's it. The rest of my blog is BORING and no one looks at it.
Those three posts that have been repinned and reshared and retweeted a million zillion times. Those 3 posts bring in more traffic in a day than most people receive in a year.**
All you need is 1 recipe, 1 project, 1 idea, 1 key word – to get the ball rolling. Some blogs survive on 1 post that brings in all their traffic. ALL OF IT! Some blogs don't have more than 15 posts. I once had a Friendship Bracelet site that I ignored 90% of the time, it got tons and tons of traffic. It had 100 patterns, very little content, mostly images and unbelievable traffic. You only need 1 amazing post to keep the traffic coming.
Every so often someone figures out what those posts are and they copy those posts and post them on their blogs and you know what happens? NOTHING! Go back to #2, if it's been done it's not going to work for you.
Bonus Tip!
**Why did you only pin that recipe once? Pin it every 3 days. Pin it technology! Pin it to Fashion!
I pin posts from 3 years back! Guess what's getting traffic? Yup! Whoopie Pies! How dare you only pin that image once!
5. TELL PEOPLE WHAT TO DO!
If you want more secrets – Friend me on FaceBook
People who hate you will friend you, follow you, stalk you, to get what you got.
You don't even know me? If you go to my FaceBook profile you will find something you Don't like about me – but you know, at the very least, you want to follow me, because I'm giving out stuff you want – right?
I get 10,000+ visitors a day, I can prove I get 10,000+ visitors a day, you want 10,000+ visitors a day, you are smart enough to know if you watch what I do you can learn from me and get your own 10,000+ visitors.
HELLO! Why aren't you following me?
It's that simple.
If you didn't find if simple – reread it.
Let's Recap
1 & 2: Be Unexpected.
3: Don't worry about stuff that doesn't matter, just do something unexpected
4: Pin, Share, Tweet Everything that you unexpectedly do
5: Tell people what to do with your unexpected stuff
Now leave a comment below so you can enter to win a month of free ad space right here on my blog and get seen by 10,000+ visitors every day!
Mark your comment with [blogger] at the end.
Elements used to create Featured image Artwork provided by
Created by Jill
.