NOTE: Disclaimers are at the bottom.
If you've read any of my earlier posts you know I am a Bucket Gardener. No, that does not mean I grow buckets. It means I grow plants in buckets. Grammar Nazi's go else where please.
The only place in our yard that receives enough sunlight to grow anything is the driveway that runs along the side of my house and since my husband has informed me that it is not aesthetically pleasing to move the driveway to the front of the house, I had to adapt.
This year I got a late start on my bucket garden which meant I got the leftovers at Lowes. Once I ran out of buckets I did picked up one good tomato plant at Broadway Gardens in South Portland – next year I'll start there. The plants actually cost less at Broadway Gardens and they were much better quality. (I assumed the plants would cost more – wrong!)
So I ended up with 5 somewhat healthy looking tomato plants from Lowes, along with a pumpkin plant and a cucumber plant.
My second mistake – I used far to much old soil in each bucket. Last year I filled half of each bucket with 50% old soil and 50% new soil and the other half with cow poop. This year …. I had so much old soil … so I did a 75/25 old/new split – bad idea. Even though I filled half of each bucket with cow poop, it didn't help.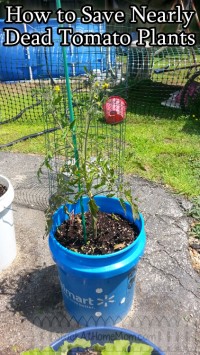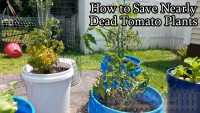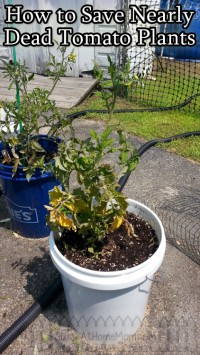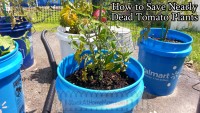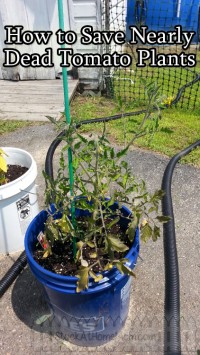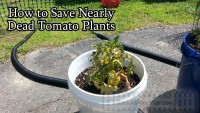 My tomatoes were pretty much doomed from the start. In the passed I had used Terracycle from the beginning. As I transplanted each plant I sprayed them with Terracycle All Purpose Plant spray and they just kept truck'n along. This year I couldn't find Terracycle anywhere locally. NO WHERE! I even contacted the manufacture and the distributor – still no help finding it locally. I hate paying for postage so I figured I'd just keep adding cow poop and hope for the best.
The best didn't happen. Within a week the plants were pretty shaky. I tried the epson salts and water thing – another big mistake. The plants looked dead 2 days later. Finally I bit the bullet. I knew if I was to have any kind of season I had to have Terracycle. I found some Terracycle Tomato Plant spray on Amazon and with Prime free 2 day shipping it worked out.
By this time the tomato plants were nearly dead. The first day I poured the Terracycle Tomato Plant spray directly into the buckets. The next day I sprayed the plants down. The third day I poured the liquid into the buckets again and said a prayer. The next day I sprayed them down and Googled "patron saint of tomato plants"!
On the fifth day I couldn't believe my eyes. My Nearly Dead Tomato Plants had little yellow buds!!
It had worked. Terracycle and Prayer! Two weeks later we have actual tomatoes growing!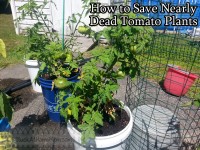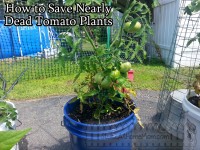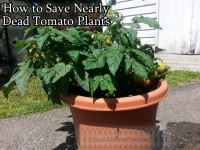 How to Save Nearly Dead Tomato Plants:
1. Purchase Terracycle Tomato Plant Spray and deal with the shipping costs.
2. ¼ cup of Terracycle Tomato Plant Spray on the first and 3rd days. Spray plants on 2nd and 4th days.
3. Spray Tomato Pants every few days for the next week or so.
4. Follow directions on the bottle from there.
Now I have a new problem. Remember the pumpkin and cucumber plants? Well, I also planted peas and green beans and none of them are looking to good. So again, I find it Terracycle All Purpose Plant Spray on Amazon (Prime of course – I don't do shipping)
The Terracycle All Purpose Plant Spray came in the mail today. I'll keep you posted on FaceBook: eDee (Profile – friend me) or StuckAtHomeMom FaceBook Fan Page.
Disclaimer:
1. This is NOT a sponsored post.
Why? Because Terracycle turned me down – something that doesn't happen often. However, I very much believe in this product, so they are getting a freebie – something else that doesn't happen often. lol
2. NONE of the links are Affiliate links. Amazon bans all Maine residents from their affiliate program.
Elements used to create Featured image Artwork provided by
Created by Jill
.