Taut Gold Standard Collegen Infusion Mask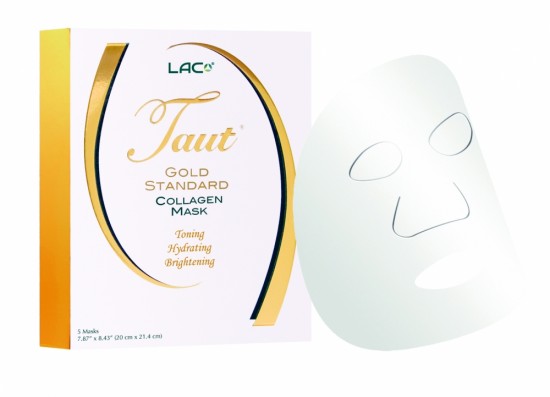 Like many women my age I'm trying to be proactive rather than reactive when it comes to taking care of my skin.  I couldn't wait to try out Taut Gold Standard Collagen Infusion Mask.  LAC's Collagen Infusion Mask is a cloth mask that fits over my face from chin to forehead.  There is a light, fresh and pleasant smell with it.  My skin was moisturized and silky soft immediately after using the mask.  While wearing the mask it was soothing and felt wonderful.

I will admit in before I tried this I was a little worried about breakouts or my skin peeling, even products that state that they are for sensitive skin usually cause a breakout or peeling.  I was pleasantly surprised when Taut Gold Standard Collagen Infusion Mask did just as it claimed on the box.
This mask is rich with nano-sized collagen molecules that delivered instant skin rejuvenation.  After using the mask that is specifically formulated to target sagging, dehydrated and dull-looking skin I felt as if my face was tighter than it was prior to using the mask and there was no longer dry patches on my face.  I can never tell a difference with myself but my husband could tell that my face was a little brighter.   I believe that the blend of blend of hydrolyzed collagen, botanical squalene, hyaluronic acid and anti-oxidants, penetrated deeply in my skin to tone, hydrate and brighten the complexion in just 15 minutes just as it was stated.
While I completely believe that these masks are worth every penny using them 2-3 times a week that is suggested and a box of 5 costing $55 that could get very pricy.  I would use these maybe once a week unless there was an important event coming up then I would use them more often to get the full benefit.  If money were no object Taut Gold Standard Collagen Infusion Mask would be on my regular shopping list.
Elements used to create Featured image Artwork provided by
Created by Jill
.