Self Closing Envelope Printable (Digital Scrapbooking)
Pattern: Green Floral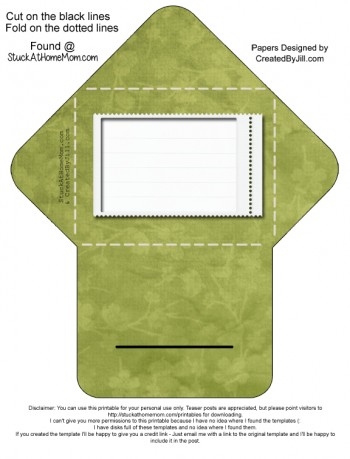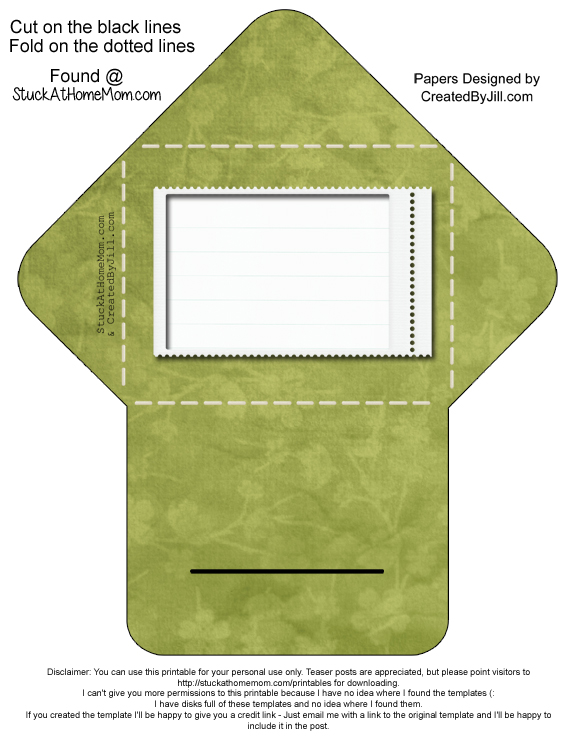 Disclaimer: This is NOT a sponsored post. I did NOT receive product or payment for this review/freebie. Created by Jill has generously allowed me to post this printable using her artwork.
 
Today's Printable: Green Floral


Not to long ago I teamed up with Created By Jill Scraps to create printable box and envelope and calendars using digital scrapbooking papers and elements to complete the look. When our collaborative November calendar was a hit and we decided to move forward with box and envelope printables.
We are releasing the downloadable printables one per day using several different designs.
This first printable in this series is the Self Closing Envelope Pattern: Green Floral
The complete series:
Green Floral
Stripes
Splatter
Purple Floral
Metallic
Snowflake
Plaid
Blue Brushed
Crush
The hardest part of this collaborative effort is finding the Google required 350 words for each post! And Google doesn't allow repeated posts, so I can't post the same content in each printable post. Wish me luck! (word count thus far 137)
Newsletter: http://mad.ly/signups/67178/join and sign up for her newsletter and receive exclusive freebies.
Please Thank Jill for this opportunity by Liking her FaceBook Page:
You can find "Created By Jill Scraps" designs at: GingerScraps Store: http://store.gingerscraps.net/Created-by-Jill-Scraps/
GDS Store: https://www.godigitalscrapbooking.com/shop/index.php?main_page=index&manufacturers_id=81
DigiScrapAddicts Store: http://digiscrapaddicts.com/store/index.php?main_page=index&cPath=4_12
PS failed miserably at the 350 words, maybe Google with forgive me for only 236.
Elements used to create Featured image Artwork provided by
Created by Jill
.