Was Trayvon Martin acting in self defense?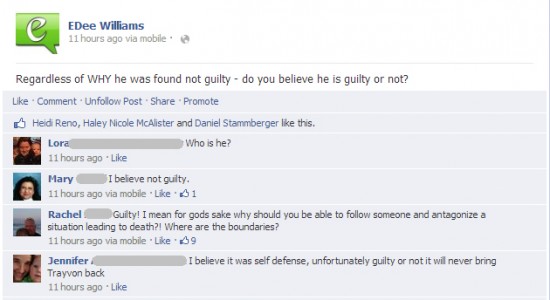 [full image below OR click on link to see updated replies AND add your own]
 
Last night I posted this Question: Regardless of WHY he was found not guilty – do you believe he is guilty or not?
Of course the replies were plenty! But was Trayvon Martin killed in self defense or was he killed because he was defending himself?
The theories go round and round.
* If Zimmerman didn't have a gun would he have approached Martin?
* If Zimmerman didn't have a gun would Martin have needed to defend himself by attacking Zimmerman?
* Did Martin attack Zimmerman or was it the other way around?
* The dispatch operator did not have the authority to tell Zimmerman what to do – but did Zimmerman have the authority to tell Martin what to do?
* Did the gun give Zimmerman the authority?
* Was this about race?
* Did the Prosecution just suck!
* If Zimmerman's gun was behind him and Trayvon never saw it, how did Zimmerman get the gun to shut Trayvon if Trayvon was on top of him?
Being a white woman who grew up in the bleach white state of Maine, race isn't something I think much about – because it doesn't effect me.
I expect kids to take short cuts through backyards after dark – it's usually safer to cut across backyards of the people in your neighborhood than to walk on the street where you could be hit by a car.
Skin color doesn't matter much here. My kids go to school with kids of every color from every country from every background – color and background is a novelty here – Mainers are disappointed when we find out that people as boring as we are.
But the question stands Was Trayvon Martin acting in self defense?
[some comments were deleted because of name calling]

Elements used to create Featured image Artwork provided by
Created by Jill
.