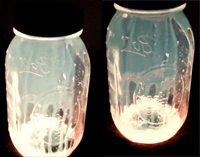 This is so cool, but it stinks so bad I'm sick, feeling dizzy and a bit high.
I took a glow stick – the Halloween kind, that have been sitting in my basement for 2 or 3 years – I broke it, shook it and cut it in 2 ……. that is when I realized I should have done this outside – if at all.
I dumped the liquid from the glow stick into the mason jar, screwed the lid on as tight as humanly possible and shook it.
It's so pretty!
If it weren't so toxic, I would have sprinkled it on the snow in front of my neighbors house – do kind of a crop circle type thing.
OMGosh – the smell!
I picked everything up, put it all in the bucket under the sink, but it smells so bad I emptied the trash, took it out and now it looks like Aliens have landed in my trash can!
I've washed the scissors twice, they are still glowing and stink and are now on the back porch because I can't take it.
It is really pretty, but next time I think I'll go with the Glow Paint, much less toxic.
Elements used to create Featured image Artwork provided by
Created by Jill
.