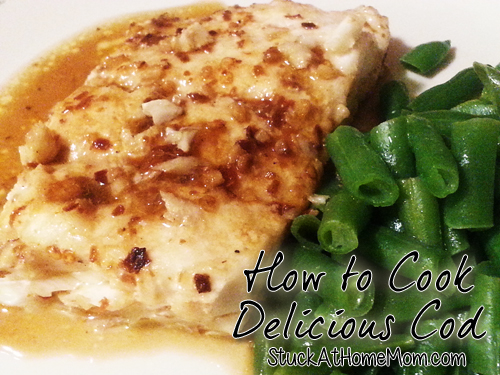 How to Cook Cod
 
I should mention that I don't cook. This is the ONLY way I can make tasty fish. If I can do it, anyone can make this taste delicious. Even my kids will eat this, it's that good. Which means it's easy and almost disaster proof. How to cook cod so everyone in the house will eat it isn't a problem, just follow the instructions below.
1 lb Cod
¼ Cup Melted Butter
1 tablespoon Soy Sauce
1 tablespoon Lemon Juice
2 teaspoons Line Juice
¼ teaspoon salt
¼ teaspoon onion powder (or onion salt)
¼ teaspoon black pepper
1 teaspoon minced garlic
½ teaspoon crushed red pepper
Preheat oven to 400 F
Place the cod in a greased baking dish
In a small bowl combine all the other ingredients, then pour mixture over the fish. Cook for 20 to 30 minutes.
Spoon mixture from baking dish onto fish before serving.
Elements used to create Featured image Artwork provided by
Created by Jill
.