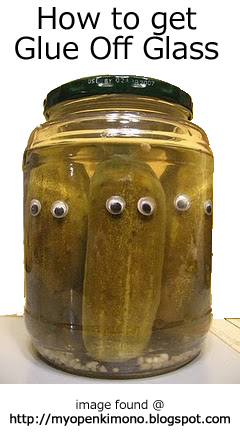 It's Vegetable Oil!!
(obviously test surface first.)
OMGosh! I'm in the middle of writing a post called "Make a Nightlight Out of a Pickle Jar" and I can't get the freak'n glue off the pickle jar.
I 'Googled' "How to get glue off glass" and the response was overwhelmingly WD40 – well how the heck do you get WD40 off?
The other answer was Acetone. When was the last time you saw acetone in nail polish remover? I can't find the stuff.
Then, I saw someone who wrote, WD40, motor oil, any kind of oil ….
AND IT HIT ME LIKE A BRICK! Any kind of oil could be Vegetable Oil!
It worked – end of story.
Now I'm off to build a photo – light – box, cause you know, every picture ends up on Pinterest, so they better be perfect.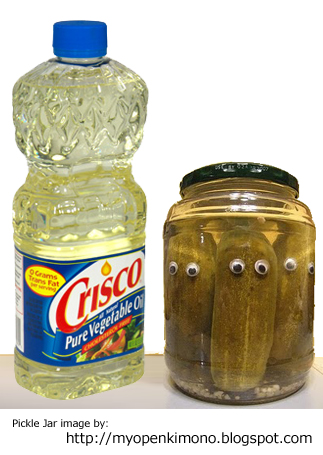 Credits:
Pickle image stolen from http://myopenkimono.blogspot.com/2010/09/dont-mess-with-pickle.html
Crisco image stolen from …. Crisco.
Elements used to create Featured image Artwork provided by
Created by Jill
.