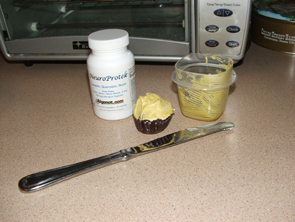 Here it is nearing the end of April and I haven't written an "Autism Awareness" post.
In our home we're attempting to become far less aware of Autism – sound harsh? Try living with it for a few years, you'll start thinking of April as "Defeat Autism Now Month" – which is more on topic with this post.
When our D.A.N doctor suggested we put our 4 year old daughter on NeuroProtek, I didn't question it. Everything Dr. Wu has suggested has had a positive impact, but when I opened this stuff, I couldn't figure out how to get this gummy pill into my daughter.
NeuroProtek is Not water soluble – I tried cutting a pill and smushing the medicine into chocolate rice dream drink, but I found most of it just glazed the inside of the cup. And using a sippy cup that I could shake, was far worse – you can never clean the medicines glazing effect from the small parts of the sippy.
I came up with one solution (and please if you have another, leave a comment!)
I made mini cup cakes!
Let me clarify – Mini GFCF Cup Cakes and GFCF Frosting.
Every morning I put a little frosting into a Dixie cup.
I cut off the top of the NeuroProtek pill and squish the medicine out of the pill into the frosting and I mix it up – then I frost the cup cake!
A little bit of sugar helps the medicine go down – right, but I fear if Dr. Theoharides M.D., PhD ever comes across this post he'll probably have a stroke!
But I thought that of Dr. Wu (who appears to have never come without 100 yards of an additive or a piece of meat) also and he just said 'limit the sugar' – It helps to have an extremely brilliant and understanding D.A.N doctor (and I mean extremely understanding, considering our daughter has smacked him in the head and attempted to eat several of his office plants.)
So that's it – frosting on a mini cup cake.
Elements used to create Featured image Artwork provided by
Created by Jill
.