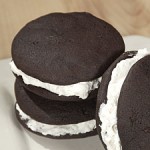 Chocolate Whoopie Pies
Cake:
½ cup shortening
1 cup sugar
2 egg yolks, unbeaten
5 Tbs. cocoa
1 tsp baking powder
2 cups flour
1 tsp baking soda
½ tsp salt
1 tsp vanilla
1 cup milk
Beat together shortening, sugar and egg yolks. Set aside. Sift cocoa, flour, baking powder, baking soda and salt. Add to egg mixture then add vanilla and milk. Do not overbeat. Drop by tablespoon on an ungreased cookie sheet. Bake 9 -11 minutes at 375F. Transfer to a wire rack and fill while warm.
Filling:
1 cup shortening
1 stick butter softened (I use light butter)
2 tsp vanilla
2 tsp milk
1 – 7 ½ oz. jar Marshmallow Fluff
3 1/3 cups confectionery sugar
Beat all filling ingredients together and fill cakes and wrap in plastic wrap
Elements used to create Featured image Artwork provided by
Created by Jill
.